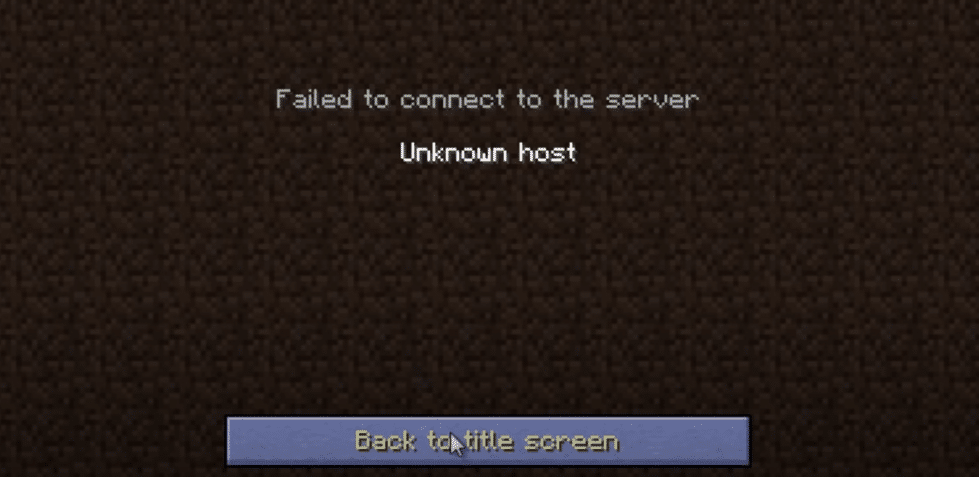 Minecraft is an online game where the player has to connect to a server before he can enjoy playing all the multiplayer aspects of the game. The player is free to become a host and create a server for himself.
This is because Minecraft allows players to be able to buy private servers where they can enjoy the game with their friends and family. Surely, buying a server comes at a price, but the player will get to have complete control over how the players in his server will play. He is also free to customize the world according to his liking.
Minecraft Unknown Host Error:
We have already mentioned how Minecraft allows the player to have their very own private server. What's more, is that he is free to make the server specific to only a limited number of players. The problem is, we have seen multiple users run into a problem whenever a person tries to join their server.
As soon as someone tries to join the player's server in Minecraft, an error pops up saying "Unknown Host". This error may occur due to different kinds of reasons. What we will be doing here is to figure out why and what causes this error to surface. So, why don't we get right into it?
Try Manually Typing in the IP Address for the Server
If you are trying to join a random server and getting this error, then the first thing we recommend you do is to try and manually type the IP address for the server you are trying to join. This may not look all that promising, but this can actually help fix your issue.
There may be a problem, such as leaving a space at the beginning of the IP address. It could be that there are a few spaces at the end of the IP address when you copy-paste as well. Either way, we suggest you try typing the IP address manually.
What If You Are the Host Yourself?
It makes sense that you are simply typing the wrong IP address if you are getting this error when trying to join a random server. However, what if you are getting this error when trying to connect to your own server?
What we recommend you do here is to try "localhost" that you can easily find in your IP slots. Also, make sure you are hosting the server on the very same computer that you are using to play Minecraft.
What If You Are Getting This Error on Your Custom Domain Name?
Users that are trying to make a custom domain name for their server also happen to come across this error. Due to the error, they get unable to create or use their domain name.
In this case, the only possible reason why this may be happening is that your domain name has expired or it is within the redemption period. If that is so, then you should definitely consider renewing your domain name as soon as possible.
Contact Support Team
If none of the above-mentioned steps are working for you, then there may as well be nothing that you can do about the error by yourself. This is why we recommend you try and contact the support team. The support team will contact you shortly after and will let you know of all the possible reasons why you are facing this error.
Make sure to thoroughly explain each and everything that you have managed to gather about the error. Also mention all the troubleshooting steps that you have already tried.
The Bottom Line
The following are the 4 ways on how you can fix Minecraft's unknown host error. Make sure you follow each of these steps carefully.
If there is anything that you didn't understand in the article, we will be more than happy to explain them to you. Simply leave a comment, and we will respond to you as soon as we can!