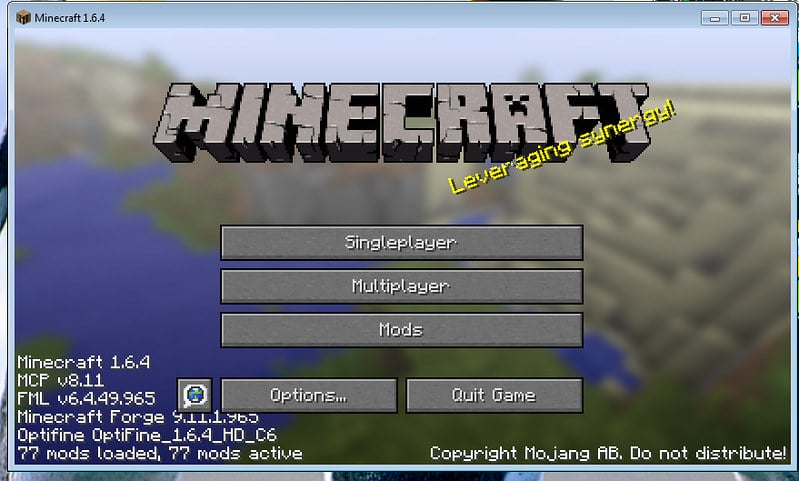 Mods
Mods are short for Modifications. A mod is installed in a game to change certain gameplay aspects. Whether the changes are minimal or huge, mods help increase the playability of a game. Some mods are used to just make a few minor fixes. These mods keep the game fresh and enjoyable. Mods can also change how a game look.
The process of installing a mod in your game is pretty simple. Although, creating a mod for a game is a different story. It Is a time-consuming process which also requires a certain amount of skill to pull off.
Minecraft is a sandbox video game with its main focus on exploration and survival. There are quite a few mods available for Minecraft. Some of the popular mods in Minecraft include Optifine, Dungeon Pack, Fastcraft, etc.
These mods add up an extra coating of fun in Minecraft. They can also change Minecraft's visuals. There are a bunch of custom mod launchers available for Minecraft. Players can use these to install various mods.
How to Fix Minecraft Mods Not Working?
A few players have been facing an issue where their Minecraft mods are not working. This is pretty common among players trying to install a mod for the first time. Whether they are doing something wrong, or the mod is acting up. Here are a few ways you can do to get your mod working in Minecraft:
Install the Correct Version
Many players seem to be using a different version of the launcher while installing the mod. This can cause the mod to not function at all. Double-checking both the version of your game and the mod is the first thing you should do. If the mod does not support the current version of the game you're running, install the supported one.
Download Mods from Reliable Sources
This step could be taken as a precautionary measure as well. If you're not downloading mods from a trusted website, chances are you're downloading a virus. Always make sure you are downloading from a completely safe website. This way, you won't be putting a risk on your computer while downloading the mod.
Place Mods on the Correct Directory
Mods are usually located in .Minecraft folder. There could be a duplicate folder with the same name. You will have to make sure you are using the right folder. After you have located the correct folder, make sure all your mod files are placed in there. If not, move them to the correct folder. You can also use Forge. It will create a mod folder for you.
Install Forge
Forge it is a completely free API used for modding in Minecraft. You cannot install the mods on the base game alone. Quite a few players don't know that players have to actually install forge before they can install the mod. You will also need to make sure the forge's version is the same as the version of your mod. Installing forge is completely mandatory for the mods to work in Minecraft.