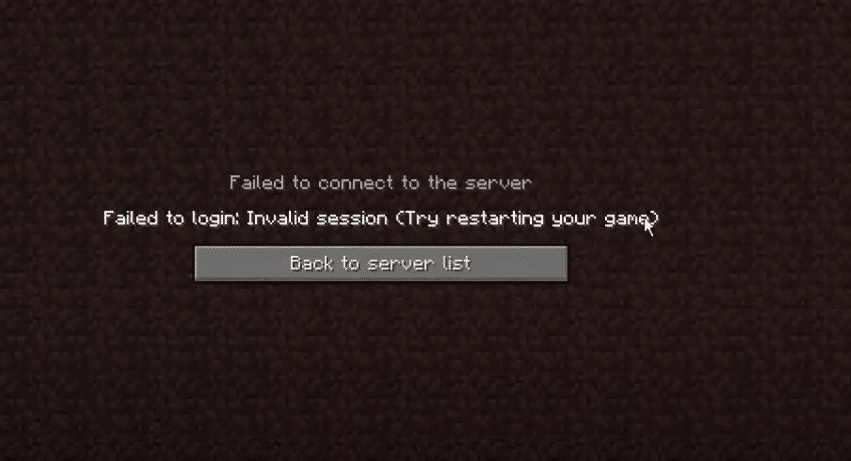 There's a common and very annoying issue being faced by a lot of Minecraft players for quite some time now. This error is exclusive to Minecraft realms and can occur at any given moment, ruining any fun that you might've been having with your friends or some random online players.
The issue occurs due to a couple of different reasons and is generally easy to fix, meaning that you don't have to worry too much. Just take a good look and try the solutions given below and you'll be back to enjoying Minecraft realms in no time.
Minecraft Realms 401 Invalid Session ID
1. Try Re-Logging into Your Account
As this issue represents an invalid session, a lot of players naturally assume that restarting the game should be enough to work. These players are somewhat right, but you actually have to log out of your account in order for the fix to work. This is the main solution to this problem and probably the simplest one as well.
All that you have to do is turn off the game and then log off of your account through the launcher. After this, you simply have to log in to your account again and try running the game again and entering a realm. The issue should not occur any longer. An important thing that you should note is that this solution works better if you don't have any mods or resource packs active during the process.
2. Stop Using Snapshots
Using snapshots while playing realms is to almost ensure that you'll face some issues, whether they're minor or major. This issue occurs a lot if you use the snapshots version of the game as it is merely a program used for testing any new or buggy features in the game. Switch to the original version and the 401 realms issue should not occur again. It is also recommended that you get rid of mods as they can cause problems while playing with other players. You don't have to completely uninstall them from your device. Instead, you can simply disable them so that they don't work with the game and cause errors such as this one.
3. Reinstall the Game
Another likely scenario is that some of Minecraft's game files are damaged and need to be repaired in order for you to enjoy playing in realms again. To clarify whether or not this is the case, you're going to have to uninstall and reinstall the game on your device and check to see whether or not realms run perfectly again. If there were any damaged files they should be repaired now and you should be able to enjoy playing without any nuisances.
4. Server Issue
There have been more than a couple of different cases in which lots of players from across the globe were facing this issue with realms. You should check online to ensure that this isn't the case again. If it is, then all you can do is wait for Mojang to get rid of the issue for you so that you can call your friends can enjoy playing Minecraft realms again.