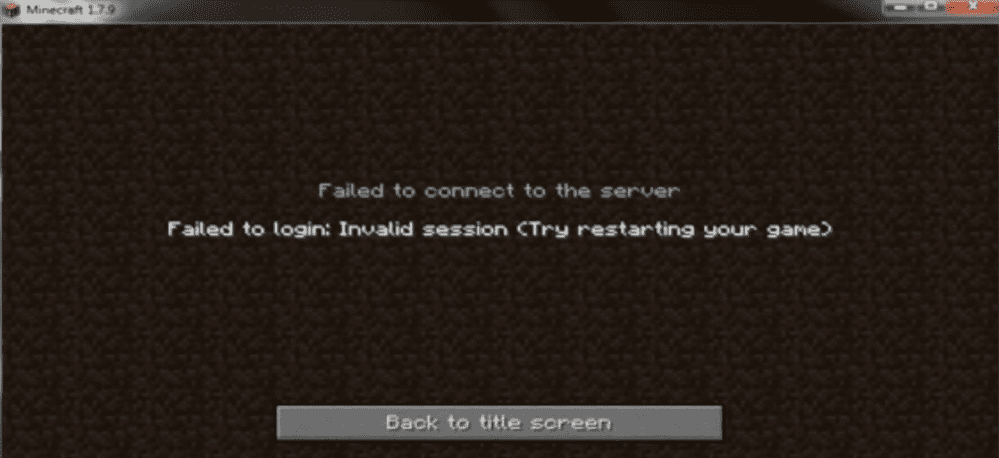 Minecraft is a massively popular multiplayer game, and having an error that prevents you from connecting online to servers can be incredibly bothersome and ruin your playtime. The error shows up when you sign in your gaming credentials and attempt to login to any server, personal, or otherwise. The error suggests that the problem lies in the session, and has something to do with the player's login information or login attempt. We will try and take steps that can resolve the "invalid session: please try restarting the game" error and get you back to easily connecting to your server and back to crafting and surviving in the harsh and dangerous world of Minecraft.
Before trying anything, restart your PC and make sure you close any unnecessary programs before you run the launcher and try to log in. Sometimes this simple method can help bypass any errors you encounter.
Minecraft Invalid Session (Fix)
1) Restart the game
It is suggested you restart the game and its launcher, and try logging in to your account again. This can help refresh the session files and create a new session that won't have any problem logging in properly. Also, make sure you run the game as Administrator just to be completely safe.
2) Session timeout or multiple logins
The problem could also be a cause of your session expiring before you had the chance to connect to your server, possibly timing out due to inactivity. Try your account log in again and make sure your account isn't logged in elsewhere since this could clash with your session. Close all Minecraft windows and log out of all places before trying to log back into your account.
3) Reset account password
There's a chance someone might have accessed your account somehow and left it open to misuse and fraud. In this case, immediately reset the password on your account and make sure only you have access to it. After doing so, try logging back in and see if this fixed anything.
4) Reinstall mods
If you started getting this error after downloading a new mod or installing one that you used to have before, chances are the issue is caused by it. Try uninstalling that particular mod and then repair the game in windows settings for good measure, before trying to log back in again.
5) Reinstall Minecraft
If all else fails, it is time to completely remove Minecraft and all its files from your computer and start fresh. Uninstall the game, and make sure all files from Appdata are thoroughly removed before downloading the installer from the official site and begin downloading the game again. Make sure to have your windows firewall disabled when your game is done downloading and then try again and see if your issue of 'invalid session' is resolved.