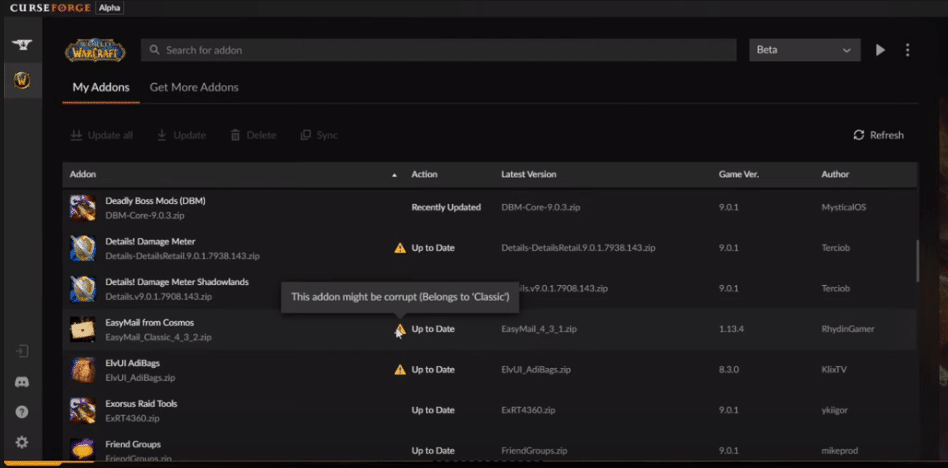 CurseForge, known by many as simply Curse for short, is a very popular digital haven where you'll be able to find mods for a majority of popular video games. This includes all sorts of highly popular titles, including WoW itself.
Players can use the Curse Client to run all sorts of different modifications without any issues, and even automatically download any updates and patches for them whenever they are released. But sometimes, the Curse Client does not update WoW mods or any other mods for that matter. Here's what to do when facing this issue with the popular application.
In-Game & Web Guides for World of Warcraft
Zygor Guides are the best and fastest way to level your characters in World of Warcraft and accomplish more in less time.
Hottest Lepre store World of Warcraft Boosting Offers
How to Fix Curse Client Not Updating WoW Mods?
Check the Client Settings
It could be that the reason Curse Client isn't downloading any kind of updates for your WoW mod is due to the fact that these have been disabled by the client's settings. Keep in mind that Curse has a lot of different options for players to change and mess around with in order to make their experience with the client much more suitable for use.
One of these options includes the settings to keep downloads disabled until they are manually authorized by the user themselves. It is highly likely that the automatic download option on your Curse Client has been disabled and you'll need to enable it manually. This doesn't take much time at all, and you can easily do so by just opening the application and going into its settings.
Manually Enable the Update
There is the option to install updates for mods manually as well if Curse Client is not updating them. This option comes in handy during situations such as these. If players are only encountering this update problem with a specific WoW mod, we recommend that they try to manually install the update for this mod.
Once this specific update has been downloaded manually, the ones that come out in the future for this same problematic mod should be installed by Curse Client automatically. This solution tends to work great for most players that are encountering problems with specific modifications, so make sure to try it if only one mod is proving to be problematic while the rest are updating just fine.
Network Restrictions
The main reason why the Curse Client sometimes doesn't work at full capacity and tends to provide users problems such as this one is that its network permissions have been restricted by the system. This can be quite problematic, as the client will likely not install any updates automatically and overall usage will be limited as well.
That's why you need to ensure there aren't any such restrictions on Curse. Check your firewall settings and any anti-virus that you may be used as well. If these block the Curse Client then it won't be able to access the update server and install any patches for the mods that you use, ultimately causing this problem.