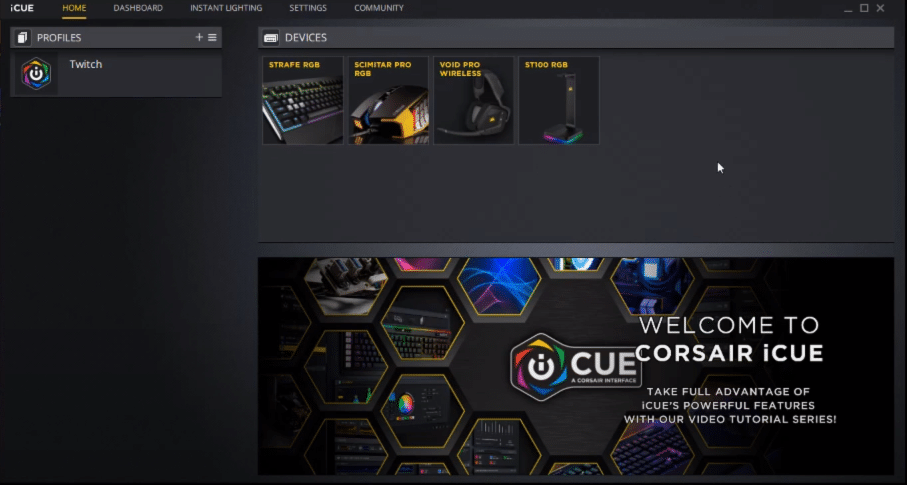 The Corsair Void is a lightweight wireless headset that you can use for several hours without feeling much pressure on the top of your head. The earmuffs are very comfortable and have sort of a rhombic shape to them. It will take some time for you to get used to their shape if you have never used headsets with similar earmuffs. Moreover, you can choose the Corsair software to configure the lighting effects on your corsair Void pro.
Another cool feature about this device is the EQ presets that you can choose from and customize according to your gaming preferences. Let's go over what settings will suit you better depending upon the type of games you like to play.
Corsair Void Pro EQ Settings
The EQ settings allow users to customize the sound coming from their headset. Using the Corsair configuration software iCUE, you can manage the EQ presets on your Corsair Void Pro quite easily. There are a variety of options available and it is often best to leave everything on default unless you know what you're doing. You can create custom presets by increasing or decreasing certain frequencies using the iCUE program.
There are also 5 presets available by default in the Corsair program. That way you can just switch through the presets and won't have to customize frequencies yourself. You can click the + icon on the EQ preset settings in the iCUE to create a custom preset. But let's just go over the different default presets that are already available in the iCUE program.
Pure Direct – As you can guess from the name of this preset, it is balanced and you can use this preset for pretty much anything. The audio quality is clear with optimal bass and other effects.
FPS Competition – Now this preset is specifically meant for gamers that spend a lot of time in FPS or BR games. It manages the upper bass of your headset so that users can easily hear footsteps and gain a positional advantage over other players. So, while gaming just switches to this mode and you won't have to manage the EQ sliders yourself.
Clear Chat – This preset makes it easier for gamers to listen to comms in between games. This preset will pump up the mid-range of your headset audio and you will be able to easily hear comms as your gaming. This mode is perfect for MOBA and other strategy-based games.
Movie Theater – This preset can pump up the bass along with the middle to give you a more immersive experience as you're watching an action movie. You can switch through these presets with iCUE.
Bass Boost – Now many users have this misconception that this preset will pump up the bass only and they won't be able to hear any sound cues within the game. While this mode does focus on boosting the bass of the headset, Corsair has ensured users that their audio won't be masked by the deep base and they will be able to hear all sound cues properly.
So, these were the default presets that are offered by Corsair iCUE. Ideally, they should be enough for you and you won't have to create any additional custom presets for the headsets. But if you want to experiment you can do so by just clicking on the create a preset icon on the EQ preset tab. Who knows, maybe you will create a preset that fits your preferences perfectly.
Should You Create A Custom EQ Preset?
The default presets are enough as you can toggle through the different modes depending upon what you're currently doing. But if you still want to create a custom preset then you can look at the settings that other users have set on their equalizer, on Corsair Forums. You can also use the default presets as guidelines and manage the different frequencies accordingly to create that perfect audio preset that will fit all of your requirements.
But what happens most commonly is that users keep experimenting with different audio settings and in the end, they will switch back to the same default preset that is provided by Corsair. So, if you don't know what to do and want to save your time then don't bother with custom presets on your Corsair Void.