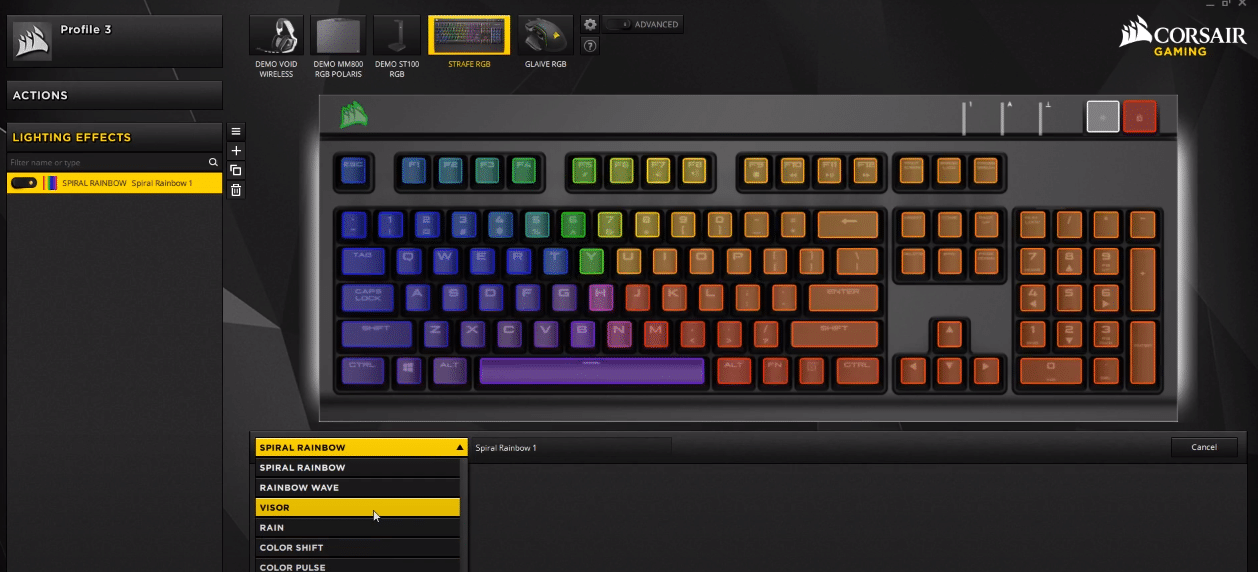 The Corsair Strafe has a vibrant RGB design and you can use the dedicated brightness button on the top of the keyboard to toggle between different brightness presets on the keyboard. There is a texture on the spacebar key that has a nice feel to it. Moreover, there is a USB passthrough available on the keyboard that can make it easier to manage your peripherals.
Some of the customers that bought this Keyboard mentioned issues with the Static color mode. If you're having trouble with static color not working on your Corsair Strafe as well then, these solutions might help you.
How to Fix Corsair Strafe Static Color Not Working?
Check Settings
According to the Corsair support team, a common mistake that most users do is that they don't apply the static mode properly. That is why you keep running into issues with this model. To fix this, you will need to check the settings and ensure that you have selected all the keys that you to apply the model on your keyboard. There is a high probability that you're making the same mistake and that is why static mode isn't working out for you.
So, to fix the static mode error, you need to just click and drag across the keyboard on your Corsair program to select them and then apply the color mode. There is also the option of selecting the keys one by one by pressing the control button and then clicking on the keys that you want to have a static mode on.
That will get the problem sorted out for you unless there is some other serious problem with your keyboard. So, make sure that you are selecting all keys before changing the color mode.
Update iCUE
If you've made sure that all keys are selected while applying the static mode on your keyboard but you are still running into the same error then we believe that your Corsair program is malfunctioning. That is why you are not able to change the color mode on your keyboard. Try updating the firmware of your Corsair strafe first, then proceed to reinstall the iCUE from your PC altogether.
Make sure to remove the Corsair program completely and then reboot your PC afterward. You can get the newest version of the iCUE program from the official Corsair web page. Other troubleshooting steps like soft resetting the keyboard or changing the ports on your device might also help you get around this problem.
It all depends upon the specific issue you're facing so make sure to go through all of the general troubleshooting steps mentioned in the Corsair guide and you will be able to get your Corsair Strafe working again.
But if that does not get you anywhere with the Static color issue then you should try reaching out to Corsair for help. There are different platforms you can choose to contact the members of Corsair support.
So, just send them a message asking them about possible fixes to get the static mode working again on your Corsair Strafe. They will be able to pinpoint the actual reason why you keep running into this error and guide you through some troubleshooting steps accordingly.
Faulty Device
For most users, the Static color issue was fixed after they selected all of their keys in iCUE before applying the color mode. For others, it was the iCUE that was malfunctioning and everything sorted itself after they reinstalled iCUE on their PC. But if you have gone through both of these steps but the color mode issue persists then there is a chance that your device is faulty, due to which you can't get the color modes to work.
The best thing to do would be to verify this suspicion by using your Corsair Strafe with a different PC. If the issue is still there then you will be sure that your keyboard is not working properly and you will need to ask for a replacement from the store you bought it from. Usually, it is pretty easy to get a replacement order if the device is defective. So, you shouldn't face many difficulties in getting a new Corsair Strafe for your gaming setup.