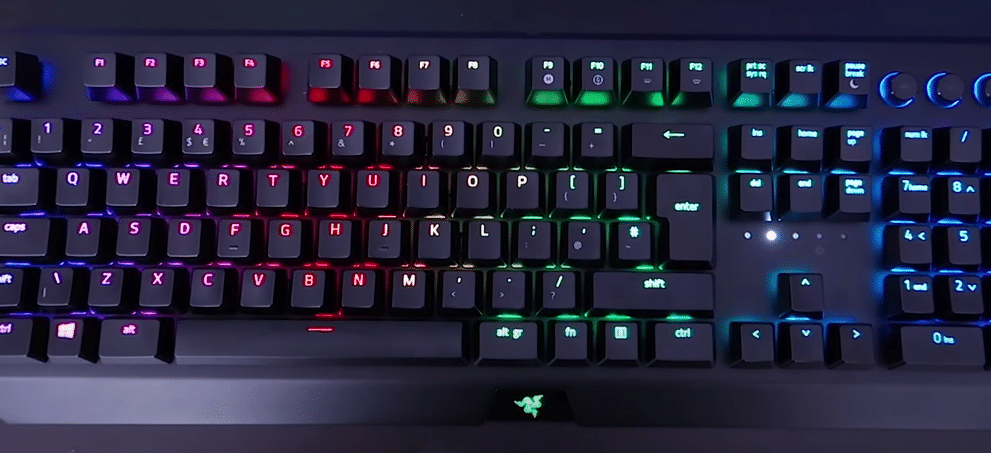 As a gamer, you have to look out for a lot of factors while buying yourself a new keyboard. From the key switches to the type of wrist padding that your keyboard comes with. You can always adapt to the new keyboard but it can throw you off your game for a longer time. So, it is best to stick to something that you're used to.
You can also ask other gamers for opinions and then decide on which keyboard you'd like to buy. Let us go over the two variants of the Razer Blackwidow keyboard. This is one of the most famous keyboards that Razer has made so far.
Blackwidow Chroma vs Ultimate
Blackwidow Chroma
The Razer Chroma keyboard has a matte finish on the surface that is very pleasant to touch. It doesn't get as greasy when your palm touches the keyboard. You should also avoid buying keyboards with a polished surface as it is quite easy for the polished finish to get dirty. There is a USB port available on the keyboard along with 2 jacks that you can use to connect your headset.
There are different versions of Blackwidow Chroma that you can buy, each has its special features and usually, people prefer to go with the V2 over the V1 of Razer Blackwidow Chroma. This keyboard has RGB backlighting that you can control by launching Synapse on your PC. You can also sync up audio visualizer and other chroma apps to get the best out of your RGB lighting.
However, if it starts to distract you at some point then you can switch off the crazy colors and stick to a more uniform theme. That way your full focus will be on your work or the competitive rank that you're grinding. Sadly, users did mention issues with the headphone jack not working like it is supposed to. The Blackwidow Chroma is more expensive and has more features overall in comparison to the Blackwidow ultimate. So, you should always choose the chroma version if you don't have to stick to a strict budget.
The Blackwidow chroma is bigger when compared with the Black Widow Ultimate. This is because there are dedicated programmable buttons on the Blackwidow Chroma while there are none on the Ultimate variant. You can also choose from different key switches Green, yellow, or orange, depending upon your preference. While on the Blackwidow ultimate you are only restricted to the green switches.
Blackwidow Ultimate
It is also a full-sized mechanical keyboard just like the Chroma variant. But it is still smaller when compared side by side with the chroma version. There are no dedicated programmable buttons on this keyboard and you can only choose the green switches if you're buying this keyboard. If you're someone that likes to buy quieter keyboards then this might not be the option for you.
It is more affordable and better for gamers that have to stick to a limited budget. The basic functionality of the keyboard is great and you will still get the minimal input delay. But that's not the only thing that players look for while buying a keyboard. The design of the Razer Blackwidow ultimate is also not as attractive and it has no chroma lighting support.
That means you'll only see the standard green light coming from below the keyboard and you can't switch it to any other color. But if you're someone who just wants their keyboard to perform its basic functions correctly and don't care so much about RGB lighting then this keyboard might not be a bad option to go for. It is still a very good keyboard when you compare it with other brands in a similar price range. But it still can't hold its ground when compared with the Blackwidow Chroma. The travel distance and the input delay are also optimal on Blackwidow Ultimate.
Now, depending upon your needs you can buy the Chroma variant or the ultimate variant. Both of these keyboards will work just fine for you but if you're looking for the best between the two then you should buy Blackwidow Chroma. If you still can't make up your mind then you can always ask other users for their opinion on both devices.