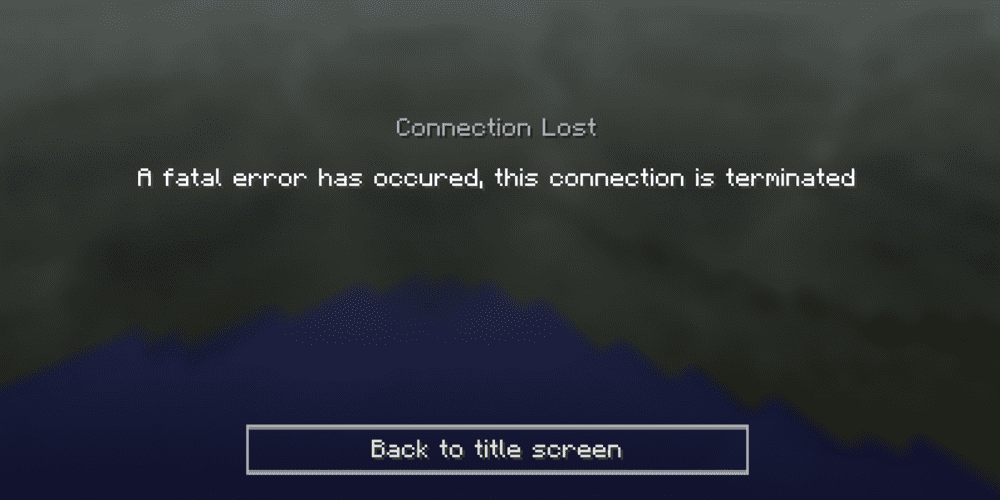 Minecraft is undoubtedly one of the most popular games around these days and it has grown ever since its release considerably. You can see players are on the mine craft servers in millions trying to have the edge of the game. It is basically a multiplayer game that allows you to have your fun in a virtual world where you cannot only learn about the environment but you can also use your powers, abilities, and materials collected in the game for constructive purposes. That is one of the core reasons that people are getting attracted towards Minecraft more than those action-adventure games.
A Fatal Error Has Occurred This Connection Is Terminated In Minecraft
You might know all about the servers and how they work if you are a pro-Minecraft player. If not, Minecraft is hosted on multiple servers around the world. You can even create your own server at your PC that would allow you to create your own world where you can either play alone or have your friends join you for the game. Sounds fun, right?
But there are some errors such as "A fatal error has occurred, this connection is terminated" This error might flash on your screen, and you are left out, disconnected with the server, and in the lobby where the multiplayer mode is. The game didn't crash so crash logs are no help for you either. There are several reasons that can trigger this error message and you need to ensure the following to avoid having inconveniences to your gaming pleasure due to this error.
Check Version/Server Connectivity
You need to check if the version of Minecraft launcher you are using is compatible with the server you are on. This might allow you to connect with a certain server, but you can get errors such as above that will cause you to face disturbances while you are gaming. You need to ensure that there is no such thing and to join the server of your choice, your version of Java launcher for Minecraft should be appropriate.
Check Mod settings
As you must know that there are several mods available on Minecraft that can cause disturbances to the gaming pleasure. These mods are designed by various designers out there and not each mod is perfect/without its due glitches. If you are using some mod, you need to check on that if it is fine for the server. This is just a minor glitch that can be solved with disabling the mod that might be causing the trouble for you and you will be all good to play your favorite game like before again once you disable the mod.
Needless to say, that if you have created the mudpack yourself It might have more chances to crash. You need to create a list of mods and the only way would be to removing/adding the mods individually so you can find the culprit that might be causing the problem for you.