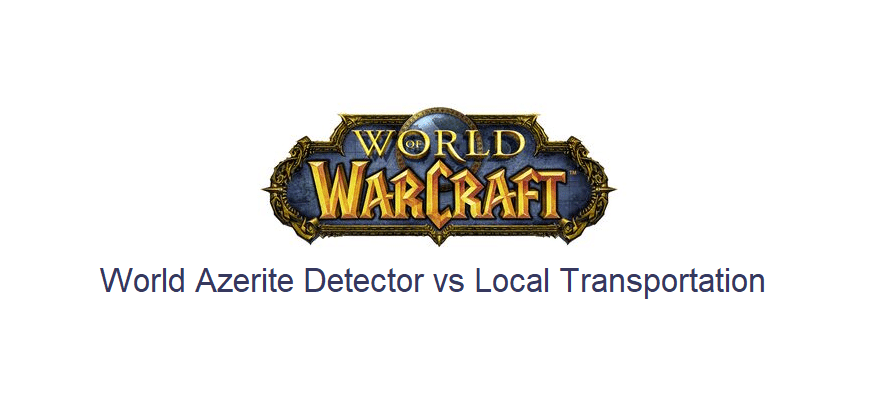 Farming can be quite annoying in MMORPG but if you want to complete the end game content there is no way around it. You have to keep grinding the dungeons, raids, world quests to find rear gear and upgrade it to match the requirements of higher-level dungeons.
On the battle of Azeroth patch, your tier 4 mission table advancements give you 2 options to choose between the world Azerite detector vs local transportation. If you're confused about what to choose then read through the following differences that can help you make an informed decision.
In-Game & Web Guides for World of Warcraft
Zygor Guides are the best and fastest way to level your characters in World of Warcraft and accomplish more in less time.
Hottest Lepre store World of Warcraft Boosting Offers
World Azerite Detector vs Local Transportation WoW
World Azerite Detector
As you can guess from the name this detector helps increase the amount of Azerite you receive by a certain amount depending upon which world quest you're doing. This can prove to be quite helpful as you can use Azerite to make your character grow in power.
Azerite detector can boost your in-game progress as now you'll be getting more minerals that can help you upgrade your character. According to the community on average world Azerite detector can boost the rewards by 15 percent. That means that you'll be getting 15 percent more Azerite if you have this detector.
According to an estimate you can potentially gain around 2950 extra Azerite over seven days. This can have a serious impact on your character progress. This is why you'll find that most players always choose the Azerite Detector over the Local Transportation Advancement.
It can however bug out sometimes which might cause you not to gain additional Azerite but you can easily sort out this issue by contacting Blizzard support and following their directions to fix your problem. You need to go through the war campaign to unlock this advancement so if it is not showing up for you then complete the campaign levels first.
Local Transportation
What this skill does is upgrade your Flight master whistle to the next level. According to players, it is one of the most useless things in the world of warcraft. Because of this, we would highly recommend that you always choose World Azerite Detector over it. The utility of Local transportation just cannot match the 15 percent extra Azerite you get with the help of the Azerite Detector.
Local transportation enables you to call a quick flight back to Zuldazar, but the requirement is that you would have used your whistle directly next to a flight master. It is just one of those skills that players never use. So, unless you believe that it will give you sufficient utility and you don't mind losing the extra Azerite then by all means go for Local Transportation.
Azerite detector can make your farming more efficient while local transportation saves you just a bit of time and does not provide you with any additional value. If you want to grind and improve your character as fast as possible then you should choose the Azerite Detector over Local Transportation. You will not regret this decision.