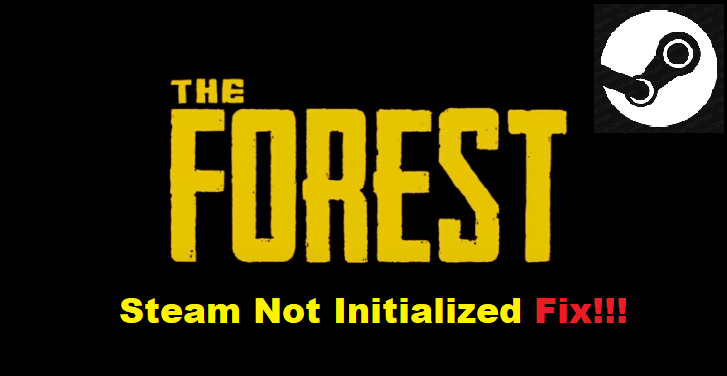 The Forest is a survival horror game that is developed and published by Endnight Games. In this game, the player starts off on an abandoned island after crashing in a plane. The game can be played in both single-player as well as multiplayer mode.
On this abandoned island, your job is to survive for as long as you can. You play as Eric Leblanc. Played mostly in a first-person perspective, your task is to explore the island in an open world environment. There really isn't any set mission or quest in the game. Instead, it is up to the player on what decisions he has to make.
How To Fix Steam Not Initialized The Forest?
There is a weird issue going on with the Forest that many players seem to have been facing. Due to this issue, whenever these players try to launch the co-op mode of the game, they get an error stating "Steam not initialized the Forest".
In this article, we will be taking a look at this issue and figuring out exactly why you could be facing this issue. We will be listing a list of ways on how you can fix this issue as well. Here are all of them listed down below:
Restart Steam
The reason why most of you are facing this issue is simply that any one of you have an older version of the Forest patch. In order for the game to properly work, all of you need to do is to install the latest patch version of the game.
While it should install the update automatically, sometimes you might have to restart Steam for the patch to fully install. You also have to make sure that you completely restart Steam. To do this, you will have to completely terminate all Steam processes that are running on the desktop and restart the client. Alternatively, you can also restart your PC.
Reinstall the Game
It could also be that there is something currently missing in the game's files or they are bugging out. If that is so, then this could be fixed by reinstalling the game.
Reinstall Steam
If none of the above-mentioned steps seem to be working for you, then you will have to completely reinstall both the game as well as the Steam client. Before proceeding to download both of them, you will have to make sure that you completely remove any Steam or the Forest files in your computer.
The Bottom Line
These are the 3 ways on how you should be able to fix Steam not initialized the Forest error. Ensure that you follow each and every one of them in order for a quick fix.