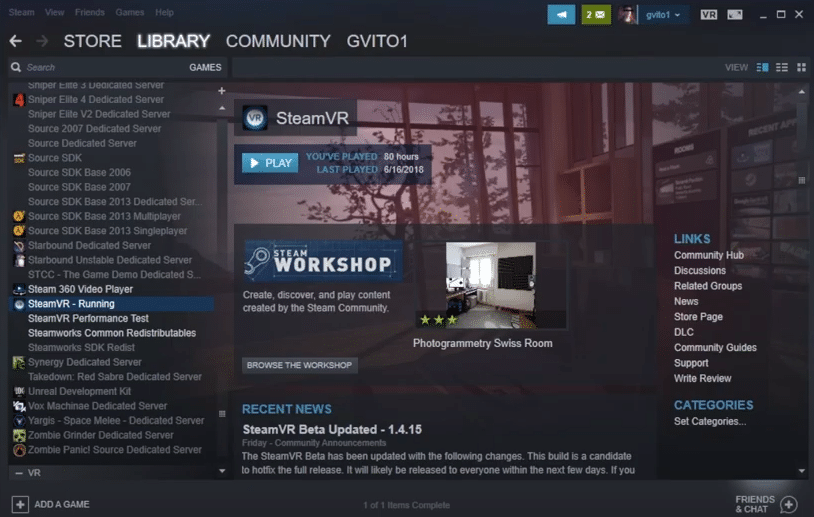 Many users are likely already familiar with SteamVR, which is the virtual reality mode offered by Steam that allows users to play all their favorite games in VR as long as they support the function. It is a handy feature, but not one without its issues.
There are a lot of errors one might encounter while using it for many different reasons, with one of the main ones being SteamVR Error 108. This is an error that occurs when the system is unable to identify a user's VR headset. If you're encountering this as well, here are some of the likeliest solutions worth trying out.
The Best Ways to Solve SteamVR Error 108
Restart the Computer
As we've already mentioned, the SteamVR Error 108 is one that occurs when the system is unable to identify the VR headset that users have connected. This is something common and nothing to worry about too much.
The easiest solution for it which works for most users is to just shut down the PC while the headset is still connected to it. Now just turn it back on and wait for a while before starting any applications. The system will be able to identify the virtual reality set as an output device and the error won't occur after this.
Power Cycle Connection Box
For just about all the VR headsets out there which are used with computers, there is a connection box that makes it possible to use the device with PCs. Power cycling this box should be more than enough to reset the connection and fix the error. An example of these boxes would be the Link Box that Oculus headset users are surely familiar with. Regardless of the one that you have, the method for power cycling these are very much the same.
Simply unplug the connector from the computer and wait for a minute or two. Once this little time has passed, plug it back in. Make sure that SteamVR is disabled and not running in the background throughout this entire process. This will complete the power cycle and some new drivers might be installed into the system which will ensure players don't face this issue again.
Force Install Drivers
Speaking of drivers, if the last solution wasn't enough to fix error 108, we recommend that you try out one last method which is a little more extreme. This requires users to get rid of every single driver related to SteamVR through Windows settings and ensure that they're all uninstalled. Once this is done, unplug the headset and shut off the computer.
Before turning it back on, plug in the headset. Once the system reboots and identifies the headset, it will download all the required drivers automatically. If there are some SteamVR related ones that are still missing after this, they can easily be downloaded through Steam's official website. The error should be resolved after you follow all these steps.