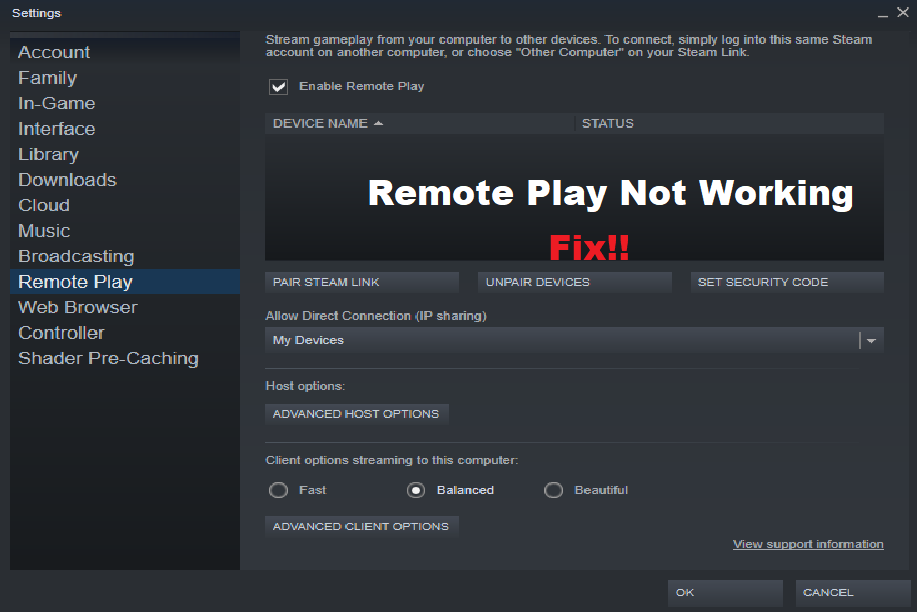 Steam Link is a great service launched by Steam. The service allows players to be able to stream all of their games on steam to their phones, TV, or tablets. What's even better is that Steam Link is completely free of cost.
This means that if you want to stream any game remotely, all that is required from you is to have a copy of that game on your Steam. In order to use Steam Link, an app is installed on the device that you want to stream your game in. Just like the service, the app is also completely free.
How To Fix Steam Link Not Connecting?
As Steam Link is free, every user is allowed to use these services. Unfortunately, we have seen many user complaints about having issues regarding Steam Link. According to them, Steam Link is not connecting to their PC.
If you are also facing a similar issue, then you will need to do some troubleshooting. Today, we will be helping you learn about all the different ways on how you can fix the problem. Here are all the troubleshooting steps mentioned right down below:
Ensure Both Devices Are Connected to The Same Network
One of the first conditions, in order to run Steam Link, is that both the device that you want to stream and the actual device where Steam is installed are both connected to the same network. It could be that you are currently using different networks on both devices.
We have found users making the mistake where their smartphone will be on the cellular network while trying to run Steam Link. Hence, we suggest you make sure that both devices are connected to the same network. Also, ensure there is nothing wrong with the network that they connect to.
Enable Streaming Option
Before one can properly stream their games using Steam Link, it is compulsory that they enable the streaming option. The option can be found under the in-home streaming settings menu.
Start by opening the steam client on your desktop. Now, look for the settings option where you should find the in-home streaming settings tab. Here, all you have to do is to enable the streaming option. If the option is already enabled, then skip this step and move on to the next one.
Check Whether Both Devices Have the Same IP Address
One thing that you will need to make sure of is that both the devices connected to the network have almost the same IP address. Only a few digits at the last should differ slightly from each other. All the other digits on both the devices should match.
In case you don't know how to check the IP address on these devices, what you will need to do is simply log in to your router settings. From here, open the devices that are connected to the router. You should see the list of devices as well as each device's IP address in this tab.
If Possible, Use LAN on Both Devices
Another possible fix to this issue is that you use a LAN connection non both devices. However, this is only possible if you are using a Laptop or a tablet with a LAN port. If you are using a smartphone, you can't insert a LAN cable on the device.
Using a wired connection on both devices will ensure a strong connection between the devices. Most streaming related issues should be fixed by simply using LAN on both devices.
Firewall Issue
One last possibility for this issue could be that Windows Firewall is causing your device to not detect properly. If that is so, then you will not be able to stream your game. Hence, check your Firewall settings and make sure there is no interference from the Firewall.
The Bottom Line
Here are 5 different troubleshooting steps that can be used in order to fix Steam Link not connecting. All you have to do is to follow these instructions for a quick fix. If none of the steps seem to work for you, then it is likely that the problem lies with either your network or the steam client itself.