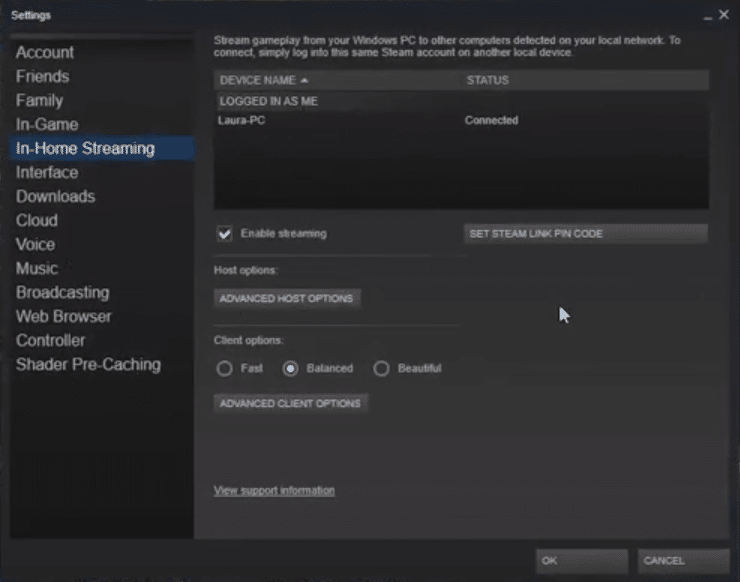 Steam In-Home Streaming is a great option for streaming your gameplay on other devices that you own. It allows users to be able to stream whatever they are currently playing on their desktop directly to any other device.
In-home streaming in Steam is absolutely free. However, it does require you to own a game on steam before you can stream it. However, if it is a F2P game, then you will be charged nothing for streaming the game. In-Home streaming is definitely one of the many features of Steam that is being widely used by users.
How to Fix Steam In-Home Streaming Not Working?
There is no doubt that Steam In-Home streaming is a great feature that comes with Steam. The problem is that not all of us can seem to get it to work. Many users on the internet have mentioned how In-Home streaming on their Steam client is not working at all.
The reason why it is not working could be anything depending on the individual. This is why it is always good practice to try troubleshooting. This article will be helping you by telling you more about how you can troubleshoot. So, let's get started!
Select Fast Option on Steam
Although this may not work for everyone, this has proven to be quite effective for quite a few users. In simple words, all they had to do was to enable an option using their Steam client. More specifically, what they had to do was go to their Steam.
Under the Preferences tab, there should be another tab labeled "Remote Play". There should be an option stating "Fast" under the Client options. Enabling this option has helped plenty of users be able to stream their Steam to other devices.
Ensure Both Steam Clients Are Running the Same Version
If you are currently running a Beta version of Steam on your desktop, whereas another version on the other device that you are trying to stream on, it may not work. It is actually compulsory that you run the same version of Steam on both devices.
Hence, we recommend you check whether you really are running the same version or not. You can either run the Beta version on both devices or the public version.
Ensure That Both Devices Are Logged on to the Same Account
It goes without saying that both devices that you are using Steam on, should be using the very same account. Only then are you allowed to stream it to the other device.
It could be that you are using a different account on your host, whereas another account is being used on the other device. In order to fix this, simply use the same account on both of the devices.
Connect Both Devices to the Same Network
One major condition for streaming anything from your host computer to another device is that both of them should always be connected to the same network. If they aren't you will start having problems with your streaming.
As a matter of fact, if you aren't connected to the same network, you won't be able to stream at all. Hence it is always necessary that you connect all the devices that you are trying to stream on to the same network. Also, make sure there is nothing wrong with the network.
Restart/Reinstall Steam on Host Computer
A potentially easy fix to this problem is to simply try restarting Steam on your host computer. Sometimes, a glitch may cause your Steam to start acting up. However, these bugs are fixed by a simple restart.
If that does not do anything, then try reinstalling Steam completely from your desktop. It should be able to resolve the problem.
The Bottom Line
Is your In-Home streaming not working on Steam? If so, then simply follow the instructions that we have written in this article. Doing so should help you easily troubleshoot and resolve it. In case the issue seems to persist, then consider contacting Steam's customer support team for further help on the matter.