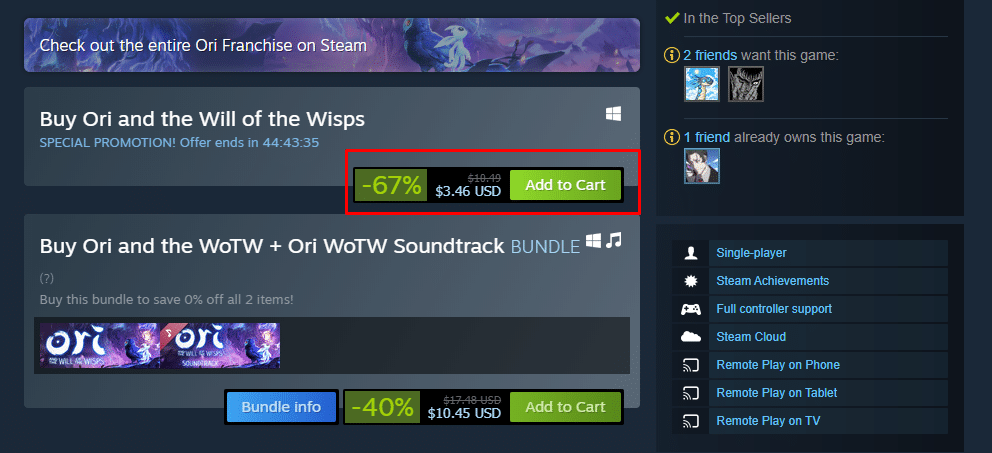 Steam is the world's biggest online store for purchasing all the popular games that you can play on your PC. Even though there are other stores that can be used for the same purpose as well, Steam is leagues ahead of what any other online game store could offer you.
Not only are the pricing of every game listed on Steam is regional, but users also get to enjoy countless sales. Apart from these features, Steam also has unarguably the best UI that you can find in any online store on your desktop.
How To Fix Steam Add To Cart Not Working?
Some users have been mentioning that they are facing a weird issue while making any transaction on Steam. According to these users, whenever they press the "Add to Cart" button while purchasing any game on Steam, it simply does not work.
If you are also facing a similar issue with Steam, then you don't have to worry about anything! Through this article, we will be helping figure out exactly how you can resolve this problem. All of the solutions that can be used to fix the problem are mentioned right down below:
Buy Through the Steam's Website
A quick and easy workaround to this issue is simply making your purchase through Steam's official website. It seems that this issue is only limited to the Steam app which is quite common.
Hence, using any browser, you can visit the official Steam's website. After you have logged into Steam, simply make whatever purchase you would like. We recommend using a reliable browser here.
Steam Servers Could Be Having Issues
Although this is quite rare, it is possible that the Steam servers are currently down. You can further confirm this by contacting Steam's customer support team. They should let you know exactly why you are facing this issue and what's causing it.
If the servers really are down, then we are afraid there is nothing you can do except waiting. The good news is that the server should go back up in a few hours.
Reinstall Steam
Another thing you can do in order to fix the problem is to reinstall Steam. Make sure that you completely remove Steam from your computer before proceeding to download and install Steam. Also, ensure that you download the latest version of Steam from the official website.
Try Using Beta or Public Version of Steam
Sometimes, the issue is caused due to running a beta version of Steam. In either case, we recommend checking whichever version you are currently using. Try changing the version into beta or public (depending on the version that you have currently turned on). This could potentially fix the problem.
The Bottom Line
Mentioned above are 4 ways on how you can easily fix Steam add to cart not working. Be sure to follow each and every one of them.