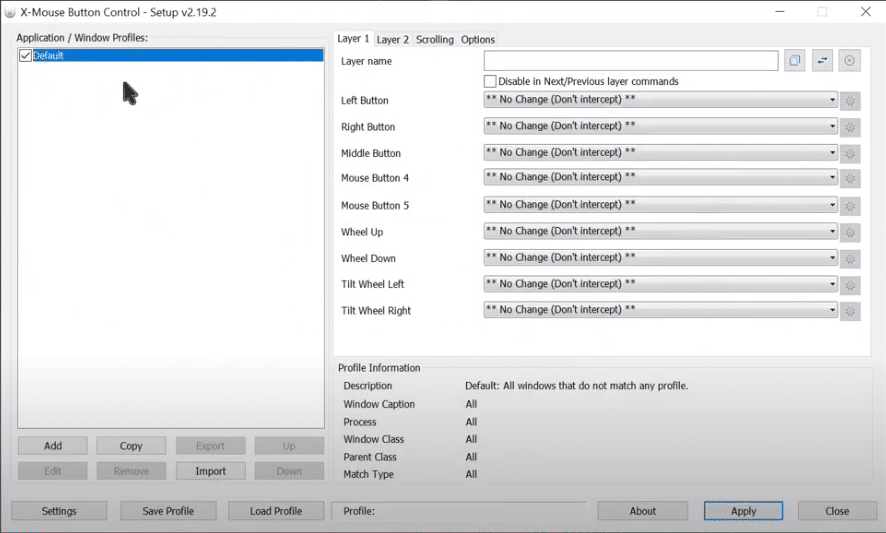 Razer Synapse is software that keeps all the razer product drivers intact and updated. It allows Razer products to configure properly with any device by saving settings automatically. An application or an OS system that acts as an interface for many functions and features on Razer products.
Most Razer laptops have pre-installed Razer Synapse but it is recommended to use Razer Synapse for other Razer products. There are a lot of great features of Razer Synapse for sure, but at times it becomes quite unbearable for a lot of its users. Razer Synapse has its fair share of problems and it's a hassle to fix them on daily basis, here are some Razer Synapse alternative worth trying out
7 Razer Synapse Alternative
X-Mouse Button Control
X-mouse button control allows you to customize an application according to your needs. Mainly it provides you with a feature to re-configure your mouse behavior. X-mouse button control is compatible with windows. It allows you to change a lot of behaviors e.g., launching windows applications, clipboard control, media control, capture screen, and much more.
It runs automatically once you log on to windows. Minimum requirements are a mouse and driver that supports up to 5 buttons. It is known to be the best Razer Synapse Alternative.
SteerMouse
SteerMouse is a tool that enhances the cursor acceleration and helps you alter buttons. SteerMouse does not work with Apple Magic House and Magic Trackpad. It has lot of useful functions which result in keyboard shortcuts and lightening cursor speed.
SteerMouse can be used for setting up each application separately. The most system only allows you to adjust the speed of your cursor but SteerMouse helps you customize the sensitivity as well.
Key Manager
Key Manager is like a breath of fresh air for your keyboard and mouse. It makes your daily life more efficient and simpler. Having a more flexible interface, you can create commands and actions at your fingertips. This software is used to make any key or action into a user-defined modifier.
Key Manager enables you to set many actions to (press and hold) keypresses and mouse button press and wheel rotation e.g., opening a webpage, starting an email, launching a file or opening a folder, shutting down your computer's power, adjusting volume, etc.
USB Overdrive
USB overdrive is specifically used for macOS that uses USB, mouse, keyboard, gaming pad, etc. USB overdrive is known for its multi-tasking abilities. Also, it can create modified settings for each one. Apple Magic and Magic TrackPad are not compatible with USB Overdrive. It comes with a lot of features but can be a tad bit boring and time-consuming at times, you are required to log in every time you start USB overdrive.
Polychromatic
Polychromatic allows you to control lighting effects on Razer devices. It runs on your computer smoothly and requires no signup or registration. In a world where everything and everyone has a price, Polychromatic is absolutely 100% free. It creates a gaming atmosphere like no other. It is compatible with Linux.
OpenRBG
OpenRBG brings life to your keyboard by creating different light combinations for each button. RBG allows you to control all the devices from a single app. It is compatible with Windows and Linux.  RBG is used for controlling the lights for third-party software as well. While OpenRBG has its uses and multiple features, it can be harmful to your hardware as well. It uses reverse-engineered protocols which at times sends harmful data causing hardware damage.
Keyboarding Master
Keyboarding Master is a tool that enables its users to customize their input devices. It has many features that are useful for its users. The best feature of Keyboarding master is the ease of using the product with one hand so the other hand can control the mouse. It is compatible with Linux and supports many Razer products e.g., Razer Orbweaver, etc.
There are many more Razer Synapse Alternatives available in the market but the 7 mentioned above are some of the best and known for their quality. Also, on a plus side, the above-mentioned alternatives highly recommended for gamers.