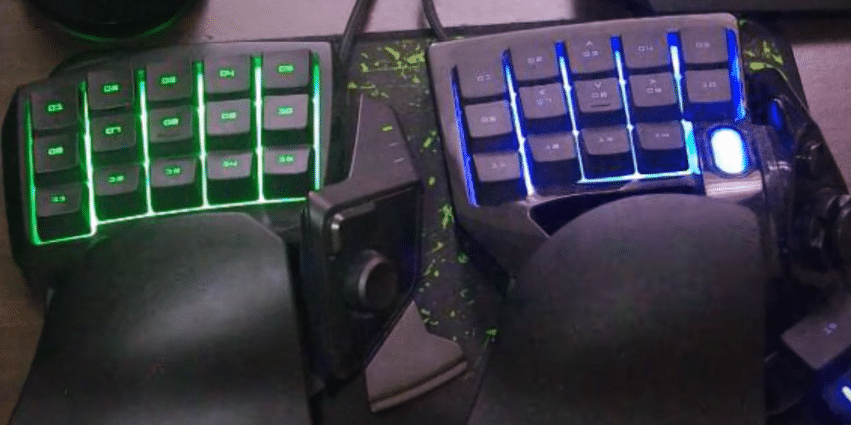 Gaming keypads are used to give gamers more control while playing a specific game. It is a perfect peripheral to use for the one-handed game. You can have a lot of benefits using only one hand while playing a game but many gamers have a lot of difficulties changing from a two-handed approach to a single hand approach.
Razer is known for its wide range of products and one of the best gaming products it produces is the gaming keypad. The best collection among Razer gaming keypads is Razer Nostromo and Razer Tartarus.
While these two sit on the top of the tree with their specific qualities, it becomes more difficult for the users to differentiate and choose the best among them. We will compare both these gaming keypads that will help us differentiate between them.
It is always difficult to set apart gaming keypads with such great features attached to them. As time progressed and people used both these products with time difference started to appear. It gave clarity to users that which gaming keypad possesses a quality that the other does not.
If you are one of these who need to buy one but still cannot choose between Razer Nostromo vs Tartarus. Here is our detailed comparison of these two gaming keypads.
Razer Nostromo vs Tartarus
Number of Buttons
One of the main reasons for selecting any gaming keypad is how many functional buttons it has and how can you customize them to your own gaming needs. Some gamers enjoy more an option of more buttons on the gaming keypad as it gives them the ability to play around with different keys.
The main difference between Razer Nostromo and Tartarus is that one has fifteen buttons and one has fourteen. Razer Nostromo has fourteen buttons and a scroll where the fifteen buttons were supposed to be.
Color
Razer is best described around the gaming world for its colored keyboards, mouse, and keypads. The original Razer logo also covered with a shade of green color. Razer Tartarus is known to have the original green color in the keypad.
Whereas, Razer Nostromo is a bit different from its counterpart and has a distinctive blue color coming out of its gaming keypad. This is a huge factor among gamers while deciding on which gaming keypad to prefer over the other.
Joystick
Many console gamers are used to playing games with a joystick and it makes it easier for them to move their character or to aim while playing a shooting game. Razer Tartarus has a simple joystick that is mostly used by the user with an additional button on top of it in the shape of a rough rhombus.
Whereas, Razer Nostromo has a detectable joystick with an arrow key G-pad. This gives an option to gamers whether to use the joystick or use a traditional console arrow key G-pad by removing the joystick. On top of the joystick, there is also an additional round button for gamers to use.
Arm rest
Gamers choose gaming keypads for their comfort. One of the best benefits of having a gaming keypad is that it allows you to play for a long period of time without hurting your hand in the process. The main feature that makes this possible is the armrest that comes with the gaming keypad. Now, there are many gamers who argue for Razer Nostromo vs Razer Tartarus but the main one is the armrest one both gaming keypads.
The best feature of Razer Nostromo is that it allows you to detach the armrest and place it in a comfortable position according to the size of your hand which comes in hand if you a bigger gaming hand. Whereas, Razer Tartarus only allows you to move the armrest up and down depending on your feasibility.
Space button
One feature that differentiates these two just by the observation of sight is how they designed the space button. Razer Tartarus uses the traditional space button design but smaller compared to what you usually find on the keyboard. Razer Nostromo has a space bar designed like a mouse click button. This settles the comparison between Razer Nostromo vs Tartarus.