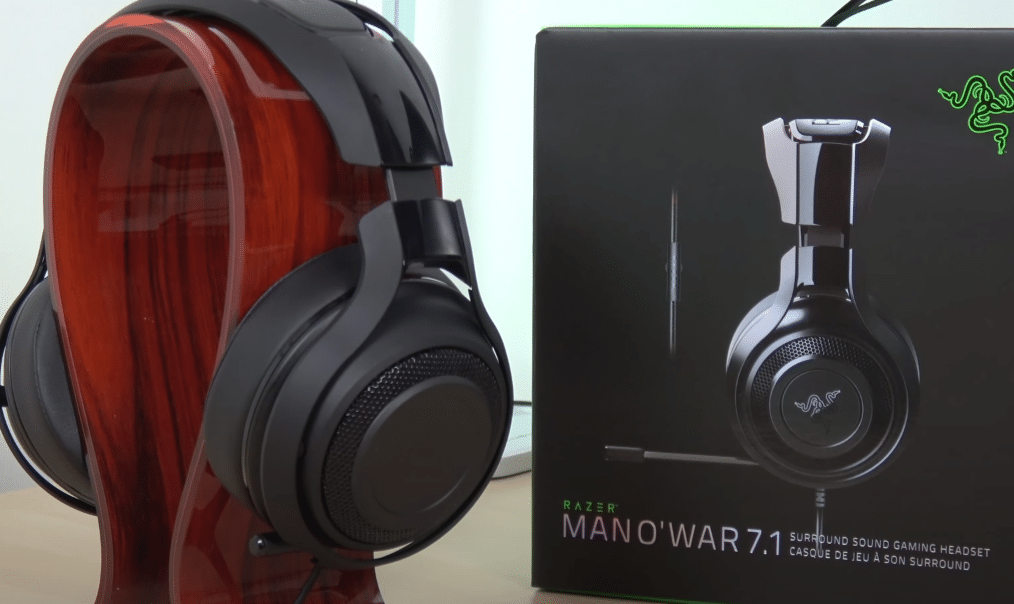 If you have to describe a perfect headset it would be wireless with a good quality microphone, overflowing sound, and entertaining bass. Not only would this headset be great for entertainment but it will make gamers move more freely during the gameplay and not worry about entangled wires coming in their way.
Razer ManO'War is one of the best gaming headsets out there with all the features that have been mentioned above. This headset is known for its sound quality and mics precise clarity while speaking. Razer ManO'War is famous for its clear microphone quality which has no background sound at all. The microphone is extendable and flexible to use while maintaining its shape.
Besides, all this it has a commendable wireless range going up to 15 to 18 meters. You can walk through your entire home without losing a signal during breaks. Though it is considered to be one of the best products out there, it may run into some problems. The most familiar problem that occurs is ManO'War has no sounds. If you are having the same problem, here are some tips.
How to Solve Razer ManO'War No Sound Problem
Reinstall Razer Synapse
Mostly the problem occurs in Razer products due to Razer Synapse updates and issues. Make sure your Razer Synapse application is up to date. Perform a clean reinstallation for Razer Synapses and ManO'War no sound issue will be fixed.
Check your sound settings
Many times, we make the most common mistake of not checking our sound settings. Most systems do not select the product your plugin as a default accessory. Go to your sounds setting and set Razer ManO'War as default. Also, do check if the Razer ManO'War is disabled. If it is, make sure you enable it.
Update Device Drivers
Systems generally update their drivers automatically keeping all the devices working smoothly. But at times, an out-of-date driver might cause the Razer ManO'War to transmit to no sound. It usually takes a lot of time to check whether every driver on your system is working properly or not.
You will have to go to Windows Device Manager and check one device at a time. If any of your drivers are out of date then you will have to manually update them and check if the problem goes away.
Privacy Settings
Usually, during a Windows Update, the system reset all its privacy settings which disable the access for Razer ManO'War resulting in no sound. You can change your privacy setting by clicking on the Windows icon and selecting the setting icon after that.
It will give you multiple settings options, select sounds, and then go privacy settings. Select the microphone and click change to give it access to your system. This would enable the headset to have access to your system and giving the Razer ManO'War sound problem a quick fix.