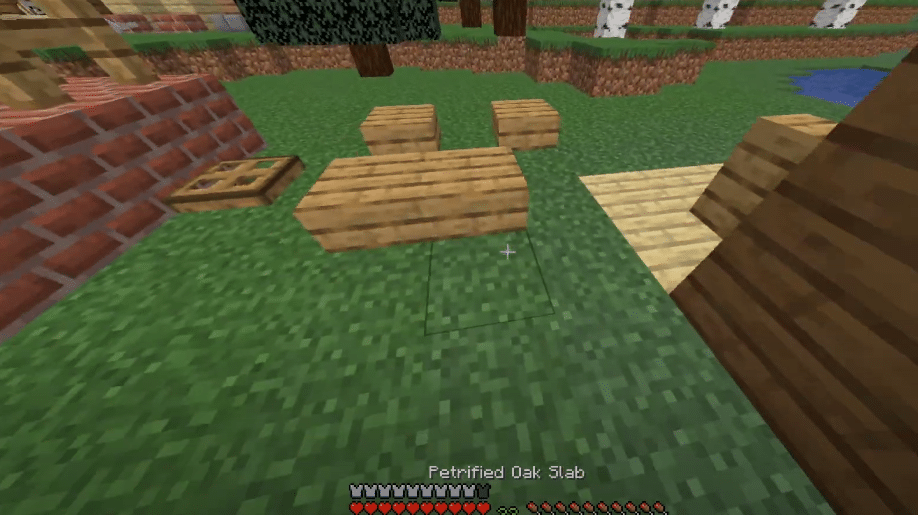 Minecraft is a sandbox survival video game made by Mojang Studios. The game mainly revolves around the concept of crafting various items and structures in order to survive for as long you can.
This is why the world of Minecraft is filled with all kinds of resources. All of these resources can be used to make various kinds of items. You can find these resources by simply exploring different locations found inside Minecraft. Some resources are used to craft weapons, gear, and craftable items, whereas some are used to let players build various structures and defenses.
Petrified Oak Slab in Minecraft:
As already mentioned above, Minecraft features tons of resource materials that have their own unique use. This is why players need to go out and explore each nook and cranny of the game's world. On their way, they will come across all kinds of stuff.
Recently, users in creative mode have found a slab that magically made its way to their inventory. They are left curious about what and why did this item come into their inventory. If you are also one of these few people and want to know its use, then you have come to the right place. We will be explaining to you everything you need to know about a petrified oak slab in Minecraft. So, without wasting any time, let's get started:
What Is a Petrified Oak Slab?
In vanilla Minecraft, when wooden slabs were first introduced in the game, the only slabs available in the game were some retextured stone slabs. After a while, they were replaced by oak slabs that are now accessible to players in the game.
Petrified oak slabs are also called as alpha slabs, and they were made available only after the Alpha version was introduced.
How To Obtain A Petrified Oak Slab?
A petrified oak slab could not be obtained by using a crafting table, or a furnace. As a matter of fact, the item was only available through the Creative menu inventory, or by using a particular game command. By typing the game command, users were able to give themselves one by simply typing and executing the line.
Unfortunately, there was no other way to get access to a petrified oak slab. This is one of the reasons why most players have no idea to what this item is, and why it is in their inventory.
What Are the Main Properties of a Petrified Oak Slab?
It is essentially a slab that was added all the way back in the first stages of Minecraft. However, it is actually a stone slab that comes with a wooden texture. Another thing to note is that the item cannot be burned by any means.
To successfully break a slab, players need to use a pickaxe. Using it will allow players to break it just like all other items in Minecraft. Visually, these are identical to an oak slab. They are a partially transparent solid block with a stack limit of up to 64.
But What Are Its Main Use?
Unluckily, there isn't much use of a petrified oak slab in the game right now. Considering how it's only available in creative, most users don't even have an idea about the existence of this item.
It is likely that they might give it some love in the near future updates, but for now, there are minimal uses for the item. There is nothing special about the item, apart from the fact that it is just like any other slab available in the game.
The Bottom Line
In this article, we have explained to you the meaning and use of a petrified oak slab in Minecraft. Make sure you read through the article. Keep in mind both petrified oak slabs and alpha slabs are pretty much the same things. Alpha slabs were the name given to the item during the initial stages of the game.
If there is anything you didn't understand in the article, be sure to leave a comment. We will try our best to respond to your questions!