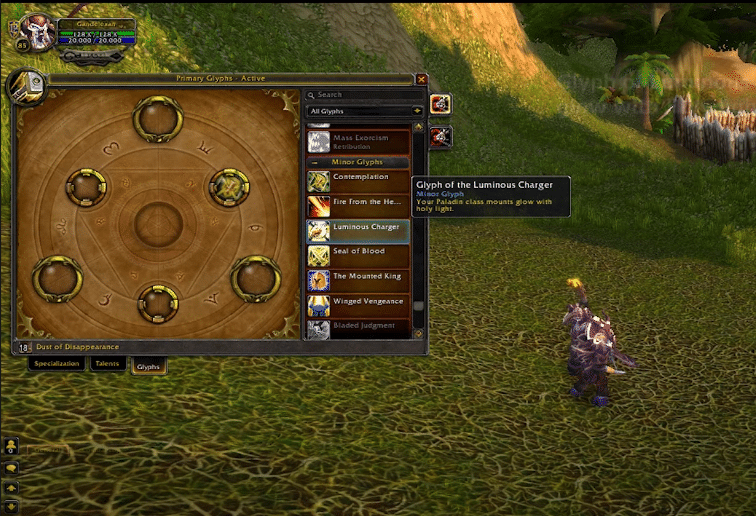 Glyphs are an integral part of MMORPG, with each class having its unique glyphs which they can customize and upgrade depending upon their playstyle. They can maximize your healing, DPS, or tanking ability. It is a unique way to personalize your avatar specs to make them suitable for different situations.
Glyph of Luminous Charger is a glyph that can be learned by a paladin that makes their mounts glow with holy light. A lot of players have been reporting issues with getting this glyph to work for them. Here are some possible fixes you can follow to sort out this problem.
In-Game & Web Guides for World of Warcraft
Zygor Guides are the best and fastest way to level your characters in World of Warcraft and accomplish more in less time.
Hottest Lepre store World of Warcraft Boosting Offers
How to Fix Glyph of Luminous Charger Not Working In WoW?
Level Requirement
So, the main reason why players run into this issue is that even though the glyph shows that it is useable at level 25 which is not the case. You will be left, clicking the glyph and nothing will happen; no errors will be displayed nor will it be used.
The thing is that Glyph of Luminous Charger has to be applied to a paladin spell that unlocks at level 44. So, the actual requirement to use this glyph is level 44 or above when you unlock spell the Heart of the Crusader. The Glyph will be applied to this spell and will become useable after level 44.
That means all you have to do is grind a few more levels to acquire this spell and your mounts will become shiny too. A lot of players feel annoyed by this misinformation shown at the Glyph status that it is useable at level 25 while the actual requirement is level 44.
Restart Client
If you are level 44 and have the Heart of the crusader skill unlocked but the Glyph is still not working then it is highly likely that you're experiencing a bug. The first thing you should try is to log out of your account and exit the client.
After a few seconds launch the client back up and log in to your character and try using the Glyph again. This method is quite effective in dealing with minor bugs. You can also clear the cache folders to see if that fixes the problem for you.
Blizzard Support
If nothing seems to work for you then there is a chance that your game or the skill book is bugged. You need to ask a game master for possible fixes on how you can troubleshoot this error. Opening up a support ticket might be the best way to do so.
You can also go to the Blizzard forums and ask other community members about possible fixes. The support team can guide you properly if your issue is unique and none of the fixes that other players suggest work for you.
For the majority of players just leveling up to level 44 and acquiring the Heart of the crusader skill solved the problem for them. So make sure you first grind out the levels and then move on towards other fixes.