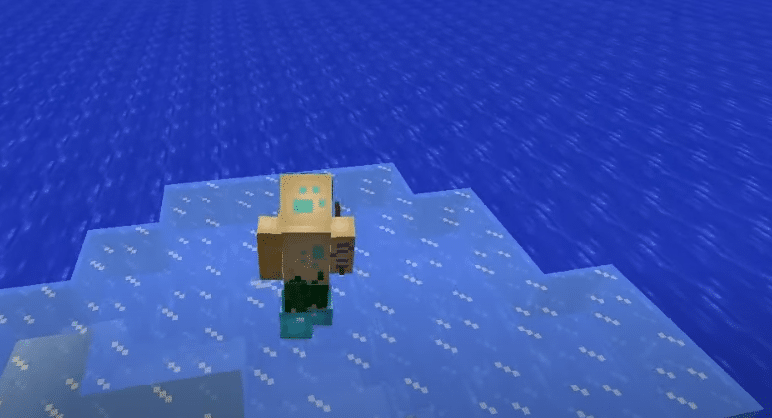 Enchantments allow you to customize your character for different situations in the game. It enables you to explore and farm materials more efficiently. You don't have to spend as much time farming and still get a lot of materials. The efficiency and durability of your gear go up by a huge margin depending upon which enchantment you're using.
Each set of armor is eligible for different enchantments. In this article, we will be going over some features of Frost Walker 1 and Frost Walker 2.
Frost Walker 1 vs Frost Walker 2
Frost Walker 1
It is an enchantment for your boots that can help you walk on water by freezing water constantly. As you move around the ocean or a lake, you'll notice that water around a 2-block radius turns into ice. You can mine this ice if you need it or just keep sliding on without worrying too much about drowning.
Now you might be thinking that what if you want to dive in the water to loot chests or explore temples. In that case, you can simply take off your shoes, and then the enchantment effect will go away. This way you'll be free to dive in as water won't be turning into ice anymore. Also, sometimes if you dive from high altitudes, you'll be able to go into the water without having to take the boots off.
This prevents you from getting killed when you jump into the water from a high platform. Because if the water instantly turns into ice, you'll hit the solid block and lose a lot of health points. So, to keep your character alive first the water will be in a liquid state and you'll be able to dive in after jumping from a high platform. After you resurface the water will then start turning into ice.
Frost Walker 2
This enchantment is the advanced version of Frost Walker 1. As compared to Frost Walker 1 it is harder to get and will cost you more in the game. The only major difference between the two enchantments is that the radius of ice that freezes around you will be larger while using Frost Walker 2. That means you'll notice more blocks of water turning into ice.
A lot of players think that Frost Walker 2 is not worth the effort. As with Frost walker 1, you never run out of ice either way. So, having a bigger radius won't make much of a difference. The only change will be that you'll be able to see more ice on the game but the basic functionality will remain the same wherever you go.
So, if you have extra materials and experience points then go right ahead and get yourself some Frost Walker 2 boots. Otherwise, the Frost Walker 1 will get the job done just fine. It all depends upon which part of the game you're in. If you still struggle with gathering enough experience points then you have to be smart about where you'll be using them.