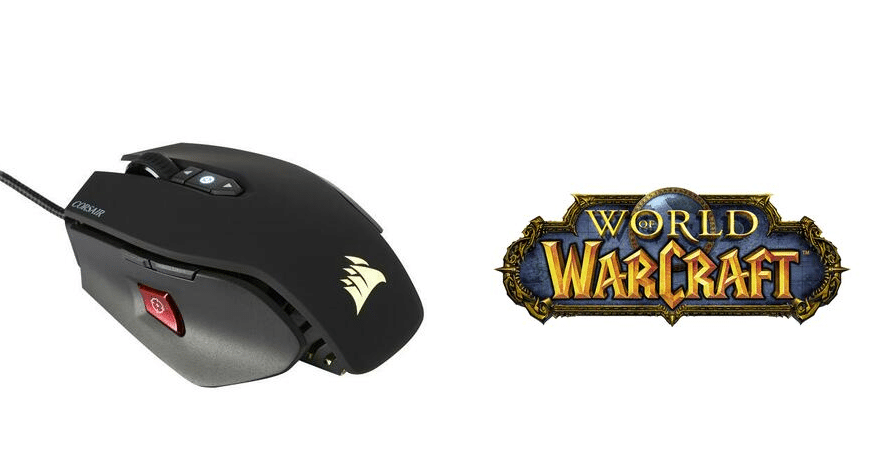 Corsair Gaming, Inc. otherwise referred to as Corsair for short, is an increasingly popular company that is obviously all about gaming as you can judge by their full name. They provide a wide range of different items for customers to choose from, all of which are great in their own way. One of the most popular accessories that they obviously retail are gaming mice. Corsair has multiple different options in this department, and one of the most popular of them all which lots of players opt to go for is the Corsair m65.
This affordable gaming mouse from Corsair comes in very handy thanks to the different features that it has in store for users. The main ones of course are the side buttons, which are almost necessary nowadays if you wish to play competitively on PC. The Corsair M65 is also great for World of Warcraft because of this. But sometimes, the device doesn't work properly with the game, as the side buttons either aren't recognized or don't work at all. This is a problem that is much more common than it should be, and we're here to provide you with all the solutions you need to get rid of it.
How to Fix Corsair M65 Side Buttons Not Working WoW?
Make Sure the Side Buttons Are Properly Assigned
The first thing you need to ensure is that the side buttons on your Corsair M65 are assigned. They obviously won't work if they aren't, which is why it's important that you set them up first before it's possible to start using them. You need to do so through both the Corsair application which you likely have installed on your device and through WoW itself.
Firstly, go to the Corsair software to assign the buttons on the mouse and make sure that they're responsive. Now start up World of Warcraft and go to the control settings. You'll be able to find the settings specifically for mouse inputs here. Assign whatever function you wish to the side buttons of the Corsair M65 and go back to playing the game. The function you assigned should now be working.
Mouse Problems
The next thing that you need to make sure of is that there are absolutely no issues with the Corsair M65 that you're trying to use. This could especially be the case if even the Corsair software itself wasn't able to recognize the buttons and get them to work.
Once you've made sure that the side buttons work fine with other applications and this is an issue with games only, move on to the next solutions. However, you'll have to get your mouse changed or refunded if it doesn't work with any other apps at all either, as it is obviously faulty.
Repair CUE
The Corsair software which we've mentioned a couple of times before is known as CUE, and it is a vital part of making sure that all of the gaming devices you get from the company work properly on your computer. Its full name is Corsair Utility Engine. The mouse that you own from the company also needs to be linked with the CUE application if you intend for it to work properly.
If this application is faulty or damaged in any way, this will mean that your mouse will act faulty as well. This is probably the reason why the side buttons aren't working with WoW. All you have to do is repair the application. You'll have to go to the official Corsair website to see the process of doing so for the specific device in use, as it is different depending on the system in question.
Reinstall CUE
If repairing the application wasn't enough, it could be that you might have to reinstall it all together. This might result in your custom profiles being lost, but it is a necessary step that you'll likely have to try out if none of the other solutions worked. It shouldn't take too much time to uninstall and reinstall CUE, as it can be easily done through a browser without any troubles.