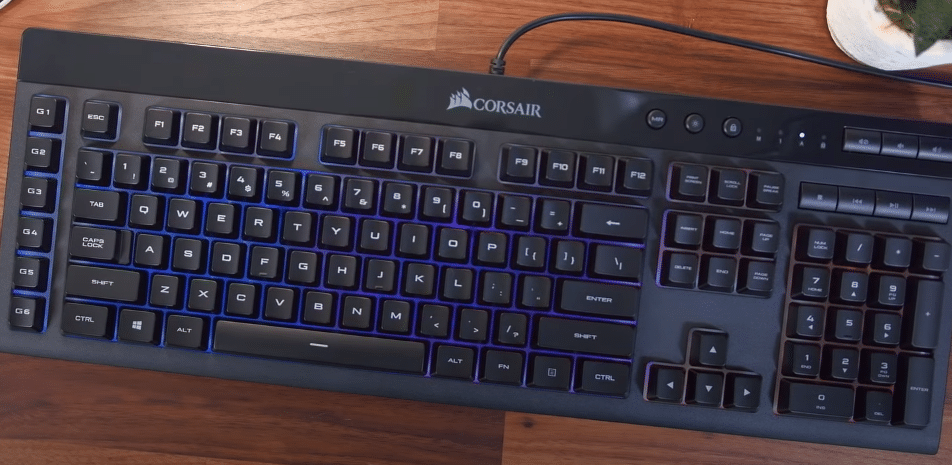 Corsair is the best producer of gaming keyboards in the world. Its gaming keyboards are considered an elite breed. Not only the design attracts the gamers but the ease of use and the price gives Corsair an advantage over its competitor.
As Corsair is known for its keyboard the best among the products is K55. K55 is a dynamic gaming keyboard with multiple lighting background options available. You can also create a different set of macros on your K55 which will enable you to be quick while playing games.
It is also resistant to dust and water spillage. K55 has perfect keys which makes you type faster and its comfortable design allows you to use it without straining your hands. It has a lot of great features but sometimes K55 runs into a little problem.
Though being flawless many gamers complained that the Corsair K55 fn key not working is an issue that bugs them a lot. You will find a list of ways to solve this problem in this article.
Corsair K55 fn Key Not Working
Update firmware on iCUE
All Corsair devices perform well when you install the Corsair Utility Engine in your system. This software allows you to make changes to your Corsair devices such as keyboard lighting. To make use of this when you install the software it shows you which device requires a firmware update or not.
Go to Corsair Utility Engine software and you will be able to select the keyboard and it will give an option to update the firmware. This will solve your Corsair K55 fn key not working problem.
Unplug the keyboard USB
The function key allows you to change the Corsair K55 lighting on your keyboard. It is convenient to change the combination and brightness by just pressing the fn key on your Corsair K55. But when the fn key is not working it can become frustrating for gamers.
To solve this, you will have to unplug your keyboard from your system. Once, it is unplugged press the F4 and the fn key and hold it down. While pressing the keys plug the keyboard back into your system. Keep pressing it for 15 to 20 seconds and it will reset the keyboard.
Clean and change the fn key
Corsair K55 is known for its rubber-designed key buttons which make it easier to use. This also enables gamers to clean it easily if any dust is stuck between the keys which makes it harder to press it down.
Just take a clean cloth and remove the key carefully for your Corsair K55 keypad and unplugging it from your system. After removing the key clean it thoroughly and clean the circuit as well. If you are still facing the problem, just make sure the key is not broken.
If it is, remove and replace it with a new one and you will solve the Corsair K55 fn key not working problem.