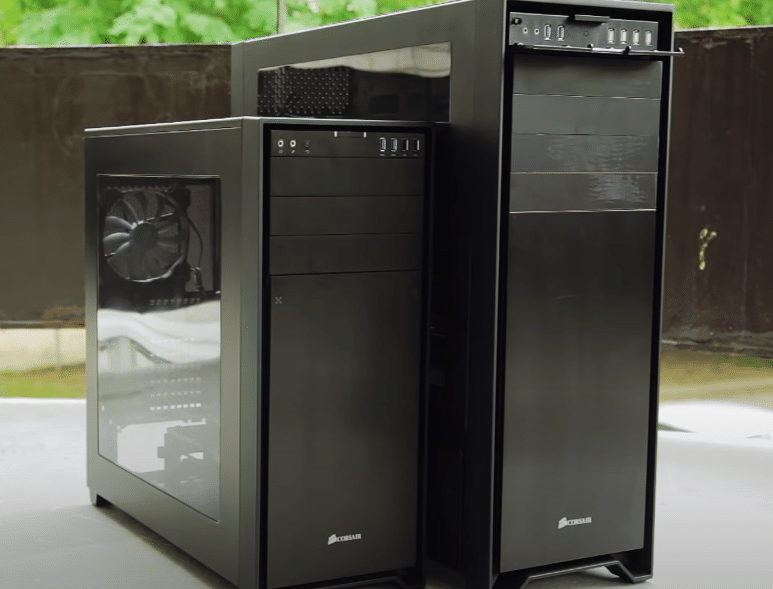 Along with other features, Corsair focuses a lot on building PC cases with optimal airflow. Moreover, you won't have any issues in putting different components inside the case as there is ample space available inside the case. You can even mount multiple GPUs and add in extra components without any trouble. There is a wide variety of cases available in all price ranges for you to choose from.
Among other models, the Corsair 750D and the 450D are quite popular. Let us discuss the different features of these models so that it is easier for you to decide which PC case will be better suited for your needs.
Corsair 450D vs Corsair 750D
Corsair 450D
The Corsair 450D can be categorized as a Mid-tower PC case. It is not as big as the 750D but if you're not trying to deck out your PC then this will be just fine for your gaming needs.
Whether or not you should buy this case depends entirely upon the space available on your table along with the type of components that you will be putting inside the PC case. It is best to ask an expert if you don't about the compatibility of your components with the PC case that you're buying.
According to users, it can be a bit challenging to put in components in this PC case as it is comparatively smaller. So, the initial setup procedure might take some time. This PC case has a professional design but you can add in some RGB fans to give it a gamer look.
There are fan filters on the front, top, and bottom of the PC case that you can take off the PC case quite easily. The top filter is flexible and is very efficient in stopping dust particles from getting inside your PC.
The airflow is not too bad but it is not as good as the 750D, that is only because of the difference in size between the mid-tower and the full tower PC case. However, when you compare the airflow of the 450D with other mid-tower PC cases then its performance is off the charts.
It is still very spacious according to the mid-tower standards. So, if you have limited space available for your gaming rig and want a mid-tower PC case with a good amount of airflow then you should go with Corsair 450D.
Corsair 750D
This PC case is perfect for users that don't have issues with limited space for their gaming setup. So, you can just buy this full-tower PC case and install all components that you need. Due to its bigger size, it is very easy to put in new components as compared to the 450D and it won't take you as long to assemble the whole gaming system. Make sure that you buy the PC case with a front mesh grill for better airflow.
The size of this PC case is massive and you shouldn't have any issues in installing a radiator on this system. There is lots of room for cable management and the design is quite similar to the 450D.
Design-wise the main difference that you might notice is that the 450D is smaller while the 750D is bigger. You still get the same window on the side panel so that you can look at the components without having to remove the side panel from the PC.
There is a flexible magnetic grill on top of the case and there are more filers on the front panel. Even though the newer models of PC components are getting smaller in size, people still prefer to have bigger cases to have the freedom of installing additional parts into their system.
So, if you are also looking for a massive PC case for liquid cooling and optimal airflow then the 750D is for you. You can mount a lot of extra storage, GPUs, and there will still be space left for additional parts. The cable management part is quite easy and won't give you any trouble.
So, if you need extra space and higher airflow then buy the 750D. Otherwise, the 450D will also work just fine to meet your gaming needs. As the PC components are getting more efficient with the introduction of newer models, you can still build a pretty strong computer within a mid-tower PC case.