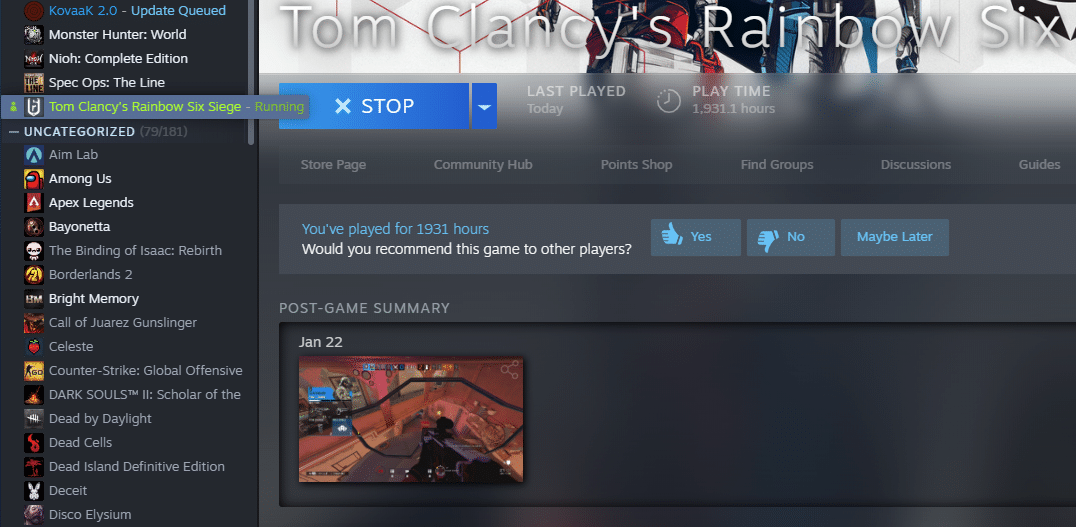 Steam is a huge online platform for PC gamers. It acts as an online store as well as a social platform where you can chat with your friends. It features powerful tools that help you buy and play all of your favorite games.
All the games that you buy on Steam go directly to your game library. Through this library, you can keep track of all the games that you have bought. You are free to launch whichever game that you'd like to play from your library.
How To Fix Steam Game Running But Not In Task Manager?
We have received reports of multiple users facing an annoying issue. According to these users, whenever they launch a game through Steam, Steam tells them the game is running when it's not. Even after opening Task Manager, these users are unable to find any game process running in the background.
Today, we will be taking an extensive look at this issue. We will be helping you learn exactly how you can troubleshoot this error. Mentioned below are some of the troubleshooting steps that should help you fix the problem:
Restart Steam
In case Steam is saying that the game is running, but there is no sign of the game launching, then we highly recommend you completely restart Steam. Sometimes, Steam launcher bugs out due to which your game does not launch at all.
However, restarting Steam should help you relaunch the game.
End Steam Process Through Task Manager
Another thing you can do which should be able to fix the problem is to open your Task Manager. Using Task Manager, end any Steam related process that you can find. After you are done terminating all Steam's processes, close Task Manager.
Now, try relaunching Steam and opening the game that wasn't working before. It should be able to start working now.
Reinstall Steam
If Steam is still acting up, then what you can do is to reinstall Steam. Ensure that you completely remove all Steam files from your desktop. After you have, try restarting your PC before attempting to install Steam.
Ensure that you download and install the latest version of Steam.
Reinstall the Game
We recommend that you try running another game using Steam. If the issue is only with one particular game, then it is highly likely the issue is with the game itself. Before you try reinstalling the game, you can try verifying the game files through the game's properties using Steam.
If it does not show any files that are missing, you can try reinstalling the game.
The Bottom Line
Are you experiencing an error where Steam says that your game is running but you can't see its process on Task Manager? If so, then simply follow the instructions that we have laid before you through this article.