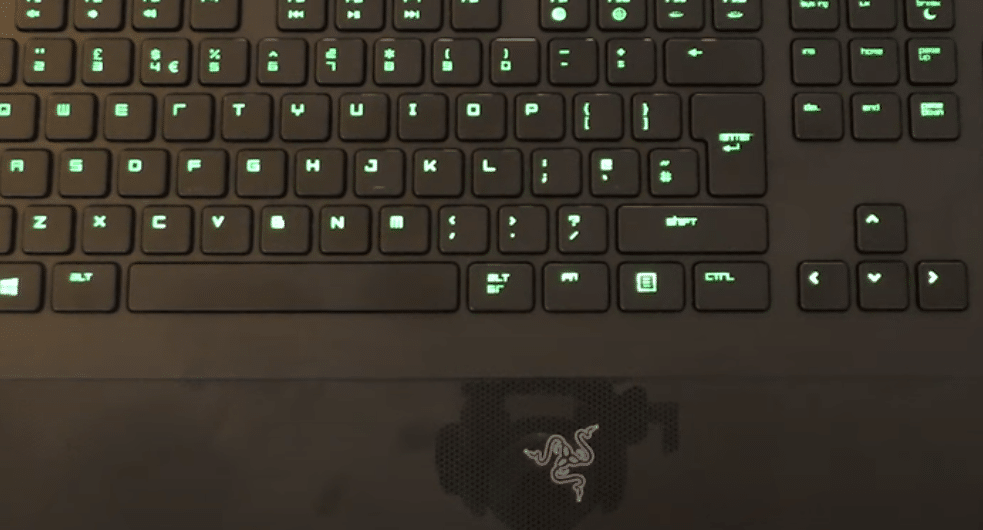 Razer keyboards have less input delay and can help you improve your gameplay. Especially if you want to improve your competitive rank then you should look for any and every advantage you can get over other players.
The price tag can be a bit high but you won't have to worry about changing your keyboard anytime soon. So, if you are looking to buy a high-quality keyboard with a great design then you should always choose Razer.
In this article, we will be going over different aspects of Razer Deathstalker and Blackwidow to help you decide which one will better suit your playstyle.
Razer Deathstalker vs Blackwidow
Razer Deathstalker
The main difference between the Razer Deathstalker and Blackwidow is that Deathstalker is a membrane keyboard while the Blackwidow series have mechanical switches. The overall design is more attractive when compared with Blackwidow. However, users have mentioned that the keys on Deathstalker don't have that satisfying clicky feel to them. The key presses have a smooth feeling to them and this keyboard will increase your typing speed by a good margin.
It has a 1000Hz polling rate and you can use keyboards quite easily while using these keyboards. If you don't like to hear the clicking noise from your keyboard then this will be the perfect choice for you. The key presses are silent and you won't hear anything while using your keyboard. This is the reason why so many users are in love with this keyboard. There are different variants available that you can choose depending upon your gameplay.
The fact that it is not mechanical does not mean that you can't use it for gaming. The response time is quite great. It has RGB backlighting just like the Razer Blackwidow that you can customize to match your personal preference. The wrist rest also comes attached to this keyboard that increases the overall comfort levels for the user.
Overall Razer Deathstalker is a great keyboard and if you're looking to buy a silent keyboard that will help you improve your writing speed. The shorter key travel distances make a huge difference when it comes to typing speed. Users have mentioned that this keyboard feels more responsive when compared with Razer Blackwidow. The price tag is also a bit high when you compare it with other brands.
Razer Blackwidow
It is a mechanical keyboard with RGB lighting that you can customize to match your overall setup design. All you have to do is open up Synapse on your computer system and from there you can easily manage the device configurations to match your personal preference.
The design is quite minimal and it is smaller in size when compared with Razer Deathstalker. This is because there is no built-in wrist rest in Razer Blackwidow.
So, if you're looking for a pure mechanical keyboard for your gaming sessions then Razer Blackwidow might be the better option for you. The key height is way more than Deathstalker and it can affect your response times for the worst. The Razer Deathstalker has a more laptop-style keyboard feel to it while Blackwidow is purely mechanical. Users have mentioned that the Razer Blackwidow is more durable and has a higher life span.
It is the more popular choice for the majority of users. It has a long-braided cable that will reach the end of your desk quite easily. Even if you have never used a mechanical keyboard before, the transition process does not take much time and the satisfying key presses make the whole process worth it. So, if you're looking for a keyboard purely for gaming purposes then Blackwidow is the way to go.
Overall, both the Blackwidow and Razer Deathstalker are very high-quality keyboards. But in the end, it all comes down to your preferences. If you want to buy a silent keyboard with a short key height then you should buy Deathstalker.
The membrane switches don't make much noise and make your device more responsive. On the other hand, if you're only looking for a mechanical keyboard and don't like using membrane boards then Blackwidow is the better option. We recommend that you watch reviews from different tech enthusiasts on YouTube to get a better understanding of both keyboards.