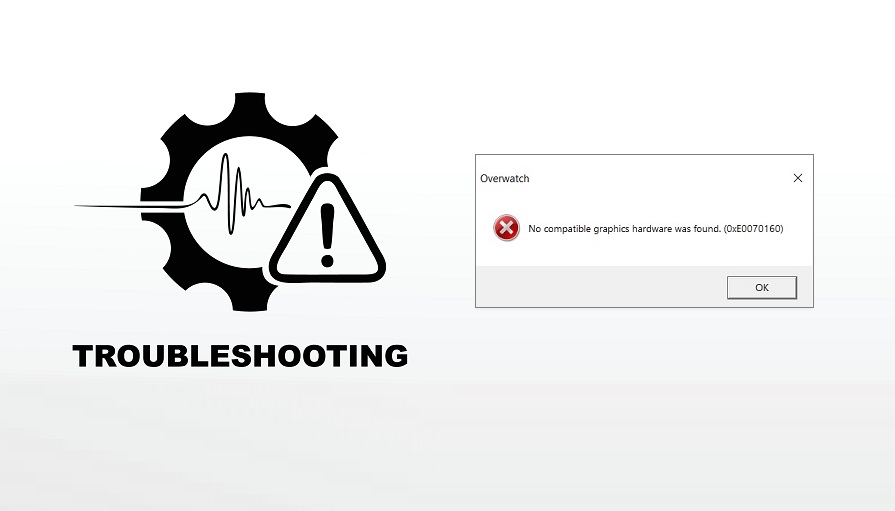 The error, 'no compatible graphic hardware was found' is an issue that occurs when the game can not find a suitable graphic hardware system present on your computer system to use. This issue has become much more frequent since the introduction of the Creators Update of Windows 10.
The reasons for this problem are very simple, for example, it could be caused because of a new graphic card that was installed into your computer or because of a resolution issue. No matter the reason this problem can be fixed without much problem in a short amount of time by using the following solutions.
Solve Overwatch No Compatible Graphics Hardware Was Found
1. Change Your Display Resolution
If there is a resolution compatibility issue after the Windows 10 Creators Update then try to change your computer resolution settings. After fixing your settings try to launch the game. If it does not display the error message then you can enjoy your game smoothly and change your resolution settings back afterward if you aren't satisfied with them. Simply right-click on your desktop, choose display settings on the menu that appears and change your resolution settings from the program that will open.
2. Update Your Graphics Driver
The problem may lie inside your graphics driver. It can be possible that your graphic drivers are not properly configured or they could be not up to date. When updating a driver you need to clear all files and programs related to the driver. To do this without any risk you should use an application made for the purpose. These applications are easily downloadable through the internet and are free. After installing the application switch your computer to safe mode, run the application and the application will do all your work you.
3. Update Your Windows
Windows releases updates to target any bugs that may be causing problems with the operating system. Make sure that you haven't missed such an update and check to see if your Windows version is up to date. Simply press Windows + S on your keyboard and select the 'Update Windows' option. The system will tell you if there is a new update available and will ask for permission to install it. Simply press yes and wait until the update is installed.
4. Nvidia Graphic Drivers Update
If you have NVIDIA graphics hardware installed in your computers than that might be the problem. Overwatch sometimes isn't compatible with the newer NVIDIA driver versions which are automatically installed by Windows. To fix this, simply roll back the NVIDIA drivers manually and that should fix the issue.
5. Firewall And Security
Check for additional firewalls and security settings. Some antivirus and shielding software are known to have strict firewall settings that prevent the launching of external applications on the system. Although this is the rarest of the reasons, it could still be preventing your game from launching time and again. To disable your antivirus software, restart your PC and try again to see if it works.
6. Try the old turning Off and On
It might sound ridiculous and oversimplified, but it works! Simply restart your computer and see if it requires any updates. Complete the restart process and see if it works. If that doesn't work, simply delete everything NVIDIA related from your PC and reinstall the graphics card from the scratch. Each PC might have its separate reasons for a launch failure but one of these methods is certain to get your Overwatch game working for good.
Related: