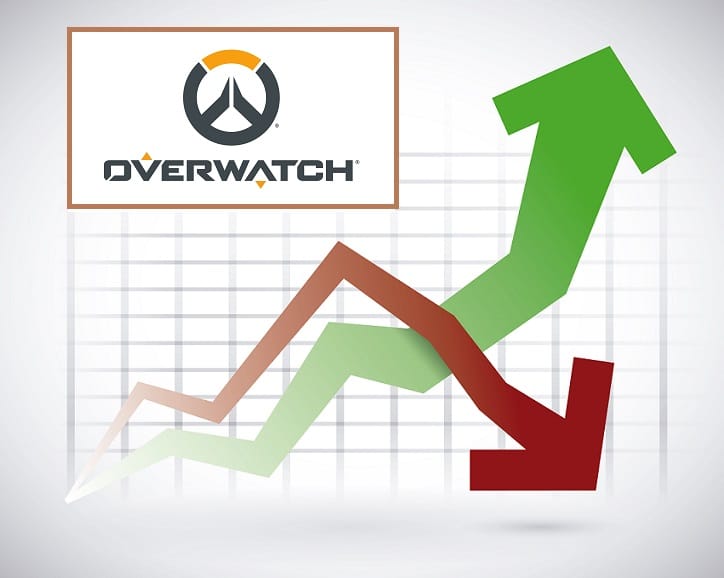 If you don't know already, Overwatch is a first-person shooter game developed by Blizzard Entertainment in 2016. The game took the world by surprise, getting perfect scores by so many review companies, and getting a huge amount of players in it's first few months. It even went on to shock everyone and win the game of the year award snatching it away from Uncharted 4: A Thief's End. Despite all of this you would think the game had already reached its peak but the game actually went on to become even more famous in 2017, gaining millions of new players.
Overwatch Active Player Base
Even in 2019, 3 years after the game's release, it still has an active player base of millions which is a huge achievement for any online multiplayer game. But all these players don't stick around for no reason.
Overwatch is an online game but it also has quite a big story with it. The game provides a huge amount of back story for every character. Each and every character having more than enough back story and potential to star in their own separate games. In 2017, the world was once again taken by storm when Overwatch released a drawn by hand short which revealed Doomfist and some of his story. The video had 8 million views within a week and attracted more players than ever.
The game has a huge range of 31 characters to pick from, with more being added every few months. Each of the 31 characters has completely different gameplay compared to one another, with each having their own separate set of abilities and ultimates that make them so much different from one another. Because of this, players can never get bored of the game, learning to play a new character after mastering the other takes people enough time for Blizzard to be able to release another new hero, meaning that you'll be kept entertained for a long time.
Along with this, Blizzard also releases new events every other month that last for 3-4 weeks also providing players with entertainment for a whole month. Along with these events, Blizzard releases skins and other cosmetics that match the occasion for the event. If the event doesn't get you playing surely the skins will get you motivated enough to start grinding for loot boxes, or just buy them, either way, it's a win-win situation for Blizzard.
The game also has a rapidly expanding E-sports scene. Having a prize pool of almost $6 million, Blizzard's own Overwatch League is one of the biggest E-sports events out there and also has a wide range of viewers. The Overwatch League was big enough to be sponsored by ESPN and is broadcasted live on TV on one of the official ESPN channels. Teams in the Overwatch league represent cities from all over the world giving it a wide range of viewers and has players that have their own separate backstories and drama, making Overwatch league more than just a simple E-sporting event.
On top of all this Blizzard recently revealed Overwatch 2 during BlizzCon in November 2019. Blizzard released an amazing trailer revealing Overwatch 2 and it is pretty safe to say that fans were excited. The trailer got millions talking about the game. Speculations, rumours, and leaks are still going on regarding Overwatch 2 but for now even Jeff Kaplan, lead producer of Overwatch and vice president of Blizzard himself has said that they have no idea as to when the game will be released and that it is still only halfway there, so we can expect to wait another year.
To put it in short if you're worried the game is dying don't worry, it's not even close to going down yet. The game has 7-12 million active players monthly and will hopefully keep providing us with entertainment for many years to come.