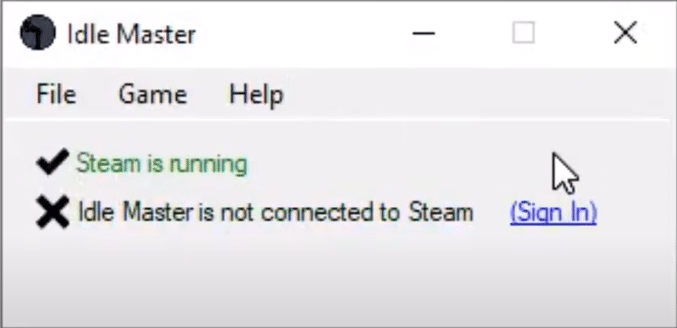 Idle Master is a popular application on Steam that is being widely used by players. Through this application, players can automatically idle their Steam game. This is incredibly beneficial for those who are in the trade business on Steam.
Idle Master lets players extract Steam trading cards while you are AFK. This means that by running Idle Master, you can easily get the remaining trading cards from all the games that you own. All of the trading cards will be added to your inventory while you can do other important tasks.
How To Fix Idle Master Is Not Connected To Steam?
Quite recently, many users have been experiencing troubles while trying to run Idle Master. Whenever they try to connect Idle Master with Steam, an error will pop up. Some users aren't even able to log in to their Steam.
The reason behind why Idle Master is not working is actually because the application is no longer in a working state. In other words, the application has been discontinued. Due to this, you are no longer allowed to use Idle Master on Steam. Luckily, there are some other better alternatives that can help you. Here are all of them mentioned down below:
ArchiSteamFarm
ArchiSteamFarm is a similar trading card farming app that is known to be more efficient, robust, as well as customizable when compared to Idle Master. The application is also more commonly known as ASF.
ASF also allows you to simultaneously idle Steam cards on multiple accounts while you are AFK. The application comes with full support for cross-OS, making it possible to run on any operating system with a .NET Core runtime. In simple words, you can run it using Windows, Linux, as well as OS X. Over time, the application has had plenty of improvements that have made it even more popular.
Idle Master Extended
Idle Master Extended is an improved extension of the original Idle Master made by Jonas Nilson. The application was made available after the Idle Master was shut down. Luckily, this version is still working. In fact, this application is receiving updates regularly.
With this application, you can expect to have all the features that you had while using Idle Master. On top of that, it has been further improved over the years, making it a great alternative to Idle Master.
The Bottom Line
In case you are wondering why Idle Master is not connecting to Steam, it is simply because the application has been shut down. Unfortunately, users are no longer allowed to use it anymore. The good thing is that we have listed the solution to this problem by mentioning a few better alternatives to Idle Master.