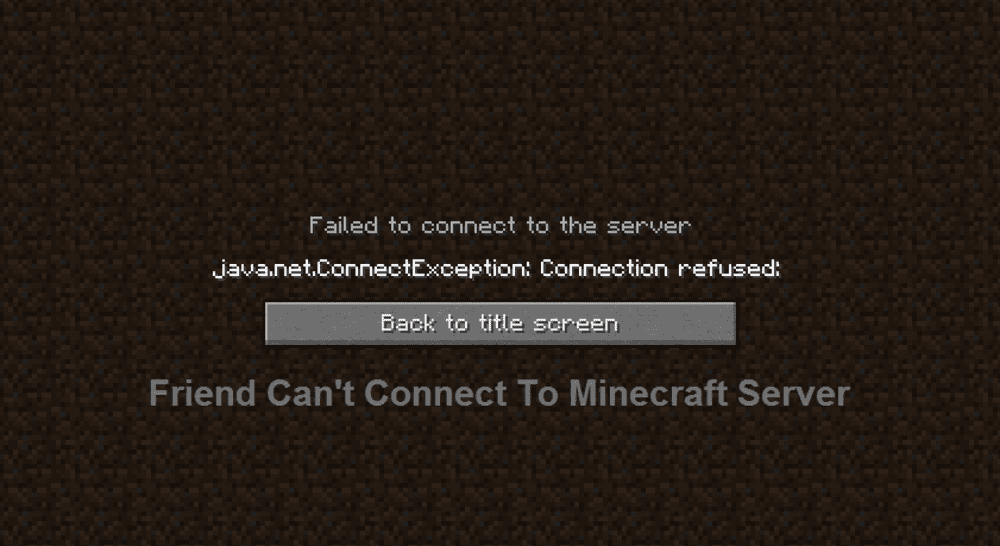 One of the best things that everyone loves about Minecraft is that it allows players to create their own servers. This means that players can create an entirely separate online Minecraft world of their own in which they can play with anyone from all over the world. A great thing about this is that it also allows you to enjoy playing Minecraft with your friends. You can build whatever you want and explore the seemingly limitless world of Minecraft as much as you want with said friends, and all they need to do is join your server.
What to Do if Your Friend Can't Connect to Minecraft Server
At times, there might be a few problems when you try to play Minecraft with friends on your own server. The biggest problem of them all is when your friends can't join the server at all. However, this is nothing too serious and can be fixed relatively easily. That being said, we've given a few of the best solutions to the error below so you can finally get back to playing Minecraft with your friends.
Make Sure That Everything is Fine
The first thing that you need to do before you get into all the complicated troubleshooting is ensuring that you're doing everything properly. You should ensure that you're actually sending the invite to your friend and that they've actually accepted it. You could also tell your friend to join your server without an invite through the game invites, and ensure that they're also in your friend list before they try this. If you've already gone through all the obvious necessities and your friend still can't join the server, all that's left is to get down to the technical solutions.
Send Your Friend Your Public IP Address
The main issue that causes this problem is the wrong IP address. It is highly likely that you might be sending your friend your private IP address rather than the public one. Doing so won't allow your friend to join the server as the public IP address is vital for them to join. If you don't know what your public IP is and how you can check it, there are quite a few websites online that can help you out. You can look up any single one of these websites through your browser and they'll tell you what your public IP is. Send this to your friend and they should be able to join with ease.
If you don't wish to use any third-party website in order to look at your public IP, you can also simply search what your IP address on any browser. The browser itself will automatically tell you about it and you can then send it to your friend. Even if this wasn't enough to help your friend get into your Minecraft server, there's one thing left for you to try out.
Set Up Port Forwarding
Setting up port forwarding is another necessity that is required for your friends to start playing on your Minecraft server. Unless you have this on, none of your friends will be able to play Minecraft. In order to set this up, you will have to log in to your router as an admin. Once you've done so, you'll need to search for and find the port forwarding settings. These are named differently depending on the type of router you're using, but you should be able to find it with ease. The port forwarding settings will likely be in the network or wireless category, or the advanced category as well.
Now you're going to have to set up the port range and port number through these settings. You can set these depending on your own need. Now type your IP address. You'll likely be asked to name the port trigger, which you should name Minecraft since you will be using it to play the game with friends on your server. Now just enable the port forwarding rule, something which you can easily do by pressing the enable or on option. Now your friend should be able to join your Minecraft server with ease.