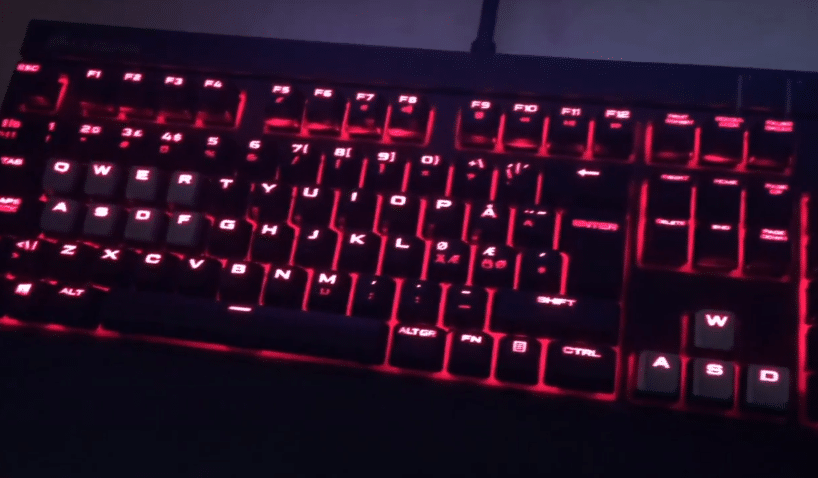 Corsair makes the perfect keyboard for our gaming pleasure. As many gamers have experienced that Corsair keyboards are the best among any keyboards out there. They have the perfect buttons and comfortable keys which make your gaming experience worthwhile.
Not only that it also has great benefits if you use your keyboard for typing for long hours, as it has an extended armrest attach to its keyboard. This makes life easier for users who use it for longer periods. One of the best features of the Corsair keyboard is its lighting keyboard which is totally customizable to your need.
Corsair keyboards can outshine its competitor in many departments but one little problem that sometimes appears in the keyboard is its Corsair scroll lock blinking problem. It can become quite irritating for many users to see that blinking light over and over again while you are trying to play your game with full focus. Here we will discuss ways to solve this problem and make it go away.
Corsair Scroll Lock Blinking Problem
Hold F1 and Win Lock Ley
The Corsair blinking scroll lock can become a problem for you if you are just using your keyboard and similar to a warning the blinking keeps on happening. It can distract you very easily and stop you from what you are already doing.
This problem will also not allow you to connect to the Intelligent Corsair Utility Energy application. Now, this can become a real problem, as for changing or customizing any Corsair device you need to go into the Corsair Utility Energy app.
You can solve this problem by pressing down your F1 and win lock key at the same time for 5 seconds. This will make it go away and you will be able to connect to the iCUE.
Change the switch on the back of your Corsair keyboard
Many Corsair keyboards have a switch on the back. This switch helps you adjust the pooling rate of your keyboard. This is very useful considering the system you have and the keyboard you are using. It can help a lot if you are using older systems.
Just try to turn the switch to far-right and this would solve your scroll lock blinking issue.
Update the firmware
First of all, you need to make you have the Corsair Utility Energy software installed in your system. If not, you will have to download it from the Corsair website. After downloading the Corsair Utility Energy software, go into the application and you will have an option to select the Corsair keyboard.
Upon selection, you will many options to customize the device in any way you want. You will also see the firmware your Corsair keyboard currently have. Try to update the firmware from the application. This will be a quick solution to your Corsair scroll lock blinking problem.