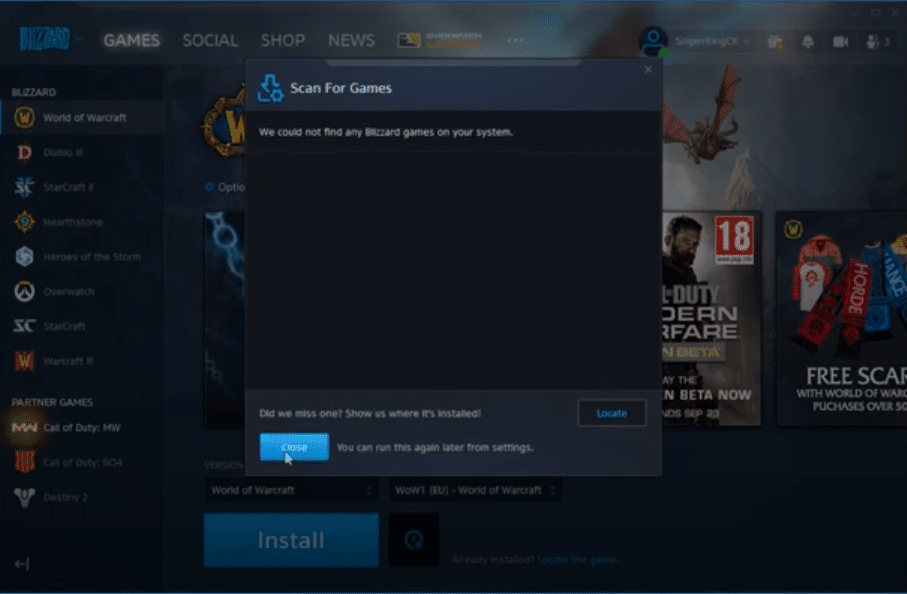 Those that play multiplayer Blizzard games on PC are likely familiar with Battle.net, which is the software offered by the developers for players to launch their games with ease. It usually is quite easy to use and doesn't provide too many problems. However, there are occasional issues with it which one might have to face sooner or later, one of which is the not so common but still quite annoying entry point not found error. We're here to discuss this error and most importantly the different ways to fix it.
The Battle.net entry point is not found the issue is one that some users encounter every now and then while trying to turn on the launcher. It is an annoying issue for some because it makes it impossible to play all your favorite Blizzard games through the application until it's fixed. Luckily, there are some solutions for the issue which can help users fix it. These are all provided below in our list. Make sure to try each one out and at least one should help you make sure that the error message isn't encountered again.
How to Fix Battle.Net Entry Point Not Found?
Compatible OS
While this likely may not be an issue for most, it's still a solution we're mentioning as it's one of the most obvious ones. As there have been many newer versions of the OS released over time and upgrades made to Battle.net as a result of this, the software no longer supports older Windows versions.
This includes just about anything before Windows XP and Windows Vista, including the two themselves. If you're using either of these to launch the software, consider upgrading your OS as it is no longer supported.
Manually Install C++ Redistributable
The Visual C++ Redistributable is an important application to have on your PC while trying to launch Battle.net. Any problems with this application will in turn result in problems with Battle.net, including errors such as this one.
If it's already been installed automatically by some other software, delete the current version of C++ on your computer and go to the official Microsoft page for the app to download it manually. Once the setup is complete and C++ is ready, launch Battle.net again and the error will surely not persist.
New Admin Account
Problems like these ones are most common in Battle.net when there are corrupted files and/or permission restrictions. A great way to bypass both of these and to get Battle.net to launch properly without errors is to create a new administrator account. To do so, use the Start menu on Windows and go over to the accounts menu.
Click on the option to create a new account here and set it up before granting it administrative permissions on your PC. Then just sign into this new account and try to launch Battle.net through it. If the app works, it means that the account you usually use has been corrupted. Transfer all important files from it to this new user for optimal use.
Repair PC
If you don't wish to transfer all your files from one of the users to another one just because of Battle.net, there is another good solution which can act as an alternative. This solution requires you to use the Windows Command Processor to repair certain files.
Firstly, find the application through the Start menu and then run it as an administrator. Then type sfc/scannow before pressing enter. The process may take a while, but once it's complete, try to relaunch Battle.net. There likely won't be any error messages this time around.
Reinstall Battle.net
The last possible solution left for players to try out if they're looking to get rid of this issue with Battle.net is to completely uninstall and then reinstall the application so that any problems are fixed. Whatever is wrong with the software that's causing this error message should be fixed after the reinstall, meaning that you'll be able to do and play whatever it is that you wish to. Battle.net isn't exactly a huge application either, so this won't take as much time as you'd think.