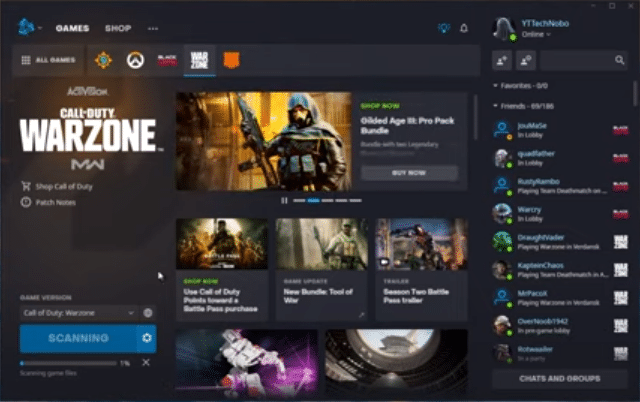 Blizzard provides a free launcher to all those who play games from the company known as Battle.net. This application allows anyone to launch their favorite Blizzard games as long as they own them, while also giving them the opportunity to learn more about them through news tabs and update them. Speaking of updates, there's also the Blizzard Update Agent which is a part of Battle.net.  It provides prompts to players regarding updates for specific Blizzard applications and is useful since it makes things easier for players.
But at the same time, it can be a huge burden for players because of the previously mentioned prompts. These appear randomly and sometimes they keep appearing again and again regardless of how many times players interact with them. If Blizzard Update Agent keeps popping up for you too, there are some easy ways to make sure that it doesn't do so any longer. Given below is our list of some of the best ones out of the possible few to make sure that the prompts don't bother you as frequently any longer.
How to Fix Blizzard Update Agent Keeps Popping Up?
End All Update Agent Processes
One of the best ways to solve these issues and arguably the easiest way of them all is to force the Blizzard Update Agent to close so that it doesn't bother users with prompts again. To do so, close the Battle.net launcher after launching it. It's recommended that you do so after the update agent has provided the prompt for the first time. Once that's done, open up the task manager and look closely at the list for all the different running programs.
Within this list, there should be a few different processes running that are directly related to the Blizzard Update Agent. Right-click on their names and force the processes to end so that they are no longer working in the background, meaning that they can't provide you with any unnecessary prompts from now on either.
Disable Anti-Virus
Another solution to try out which tends to work the most for all those that have an anti-virus installed on their computers is to disable the software. There's a good reason behind this since anti-virus is usually the one directly responsible for all the prompts you're repeatedly getting.
It makes it so that the update agent can't download what it needs to, meaning that it resends prompts to the user over and over again until it can finally download. That is only possible when the anti-virus software is disabled so that it doesn't interfere with the update process again.
Lower UAC
The user account control feature in Battle.net, referred to as UAC for short, is one that has a big part to play in the functionality of the Blizzard Update Agent. Disabling it should mean that you don't have to encounter any prompts from the agent again, which is why it's recommended that you do so if you've absolutely had enough of the annoying messages that keep popping up on your screen.
To do so, you'll need to follow a simple path along with the Battle.net menus. The first thing to do is going into the user account menu through the control panel of the application. There should be an option in this tab that allows you to change the settings for the UAC feature. It's recommended that users should slide the bar to a low amount so that the prompts are much less frequent, or they can completely turn it down to be never notified with these prompts again.
Reinstall Blizzard.Net
If all else fails, it's more than likely that Battle.net on your computer has been corrupted in some way, which means it needs to be uninstalled and reinstalled immediately. Doing so is usually a sure-fire way of fixing this issue with the Blizzard Update Agent popping up frequently.
Just get rid of Battle.net using the uninstall tool and then get rid of all files related to it stored on the device. Then reinstall the latest version through the official Blizzard site. The Blizzard Update Agent shouldn't bother users anymore