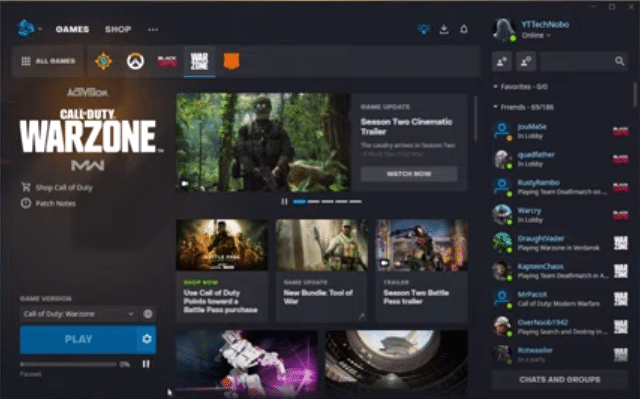 Blizzard is a famous company that is known for both developing and publishing video games for its users. They also have a social networking service known as Battlenet. You can download this directly by visiting the official website of Blizzard. The application allows users to purchase the games published by the company and then play them.
You also have the option to add friends to your library and then contact them whenever you want to. There are tons of other features that the application comes with as well. Considering this, you can either try out all of these by accessing the program's settings. Alternatively, the user can even look into the specifications provided about the application on Blizzard's website. Going through these should help you in finding all the possible features that you can access.
Invisible on Battlenet
One of the best options that Battlenet provides its users with is to appear invisible on the application. This will show you as being offline while you are playing a game or are just using the program. This feature is added for users who want to keep their activity private.
Usually, when you log in to the application or start a game. Everyone on your friend list will be notified about it. However, when appearing offline, no one will know what you are doing. Aside from this, you should keep in mind that people will still be able to send you text messages.
You also have the option to respond to these but it is up to you. Additionally, there is no difference in the matchmaking aspects of gameplay when appearing offline. Though, if you play World of Warcraft then keep in mind that your in-game character will still be shown online when you open the game.
How to Appear Invisible on Battlenet?
The feature to appear invisible on Battlenet is available to everyone using it. Considering this, if you are interested then you can try it out using these steps.
Open Battlenet by signing in through your Blizzard account
Click on your profile which should be located on the top-right corner of the application
You should now be provided with a bunch of options including information about your profile.
Select 'Appear Offline' from here and select confirm if the application asks you again.
Your profile should now be in invisible mode and you can revert it by selecting the 'Online' mode from the same drop-down menu.
The procedure is quite easy and you should not have much trouble with it. The user should also note that the application gives them two other options as well. These are the 'away' mode and 'busy'. While you have to manually set your profile to being busy.
The away option is usually selected on its own when you are not using your system. If you are having any troubles with appearing invisible on the application then the issue might be with your application. Simply rebooting it or signing back in should allow you to fix most issues. Though, you can also contact the customer support team to help you out with any errors.