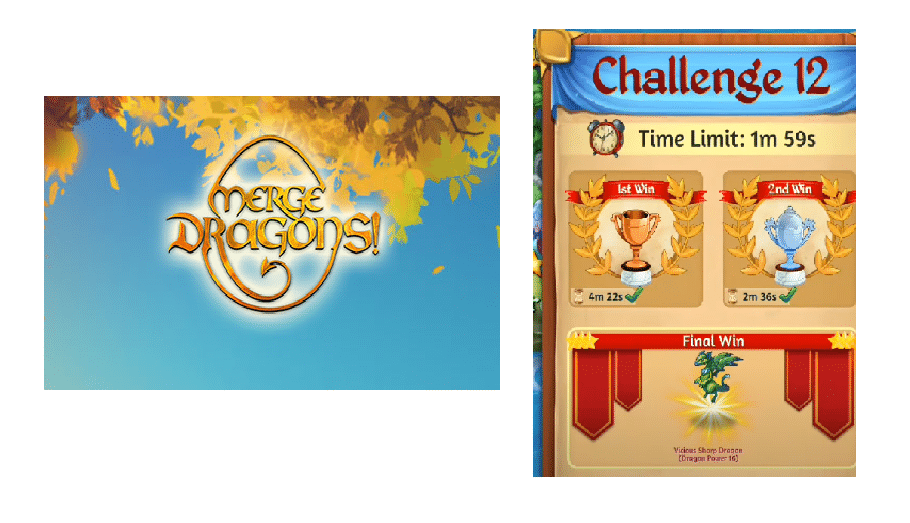 Gaming has always been a soothing element in our lives. They provide ease to your mind, but sometimes, it is hard to find a good game that can attract people of all ages. Merge Dragon is one of the top trending, mysterious and entertaining games that will take your gaming experience to the new levels of excitement.
This game will take you to an unknown dragon land attacked by zombies, and your target will be to restore the land and dragons by merging different things. Merger Dragons allows you to merge: life flowers, prism flowers (that assist in healing), dragon nests, dragon trees, dragon egg, and you can even merge dragons to make them more powerful.
The idea of this game is to introduce its player to unique and beautiful dragon land. It allows you to help the dragons by healing their land by merging different things and building a strong camp of dragons.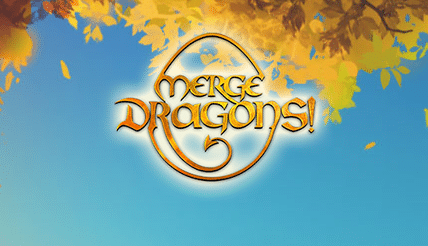 Levels and Challenges of Merge Dragon
Unlike other conventional games, Merge Dragon allows you to play the game with curiosity and excitement to win. To complete a single level of Merge Dragons, the player has to go through different challenges and needs to complete those challenges within a specific time.
The player needs to complete those challenges by merging different things to fight zombie fog and restore the barren land. After completing a particular challenge, you will be awarded bounty that can either be gold coins of dragons to strengthen your camp.
Merge Dragons Challenge Level 12.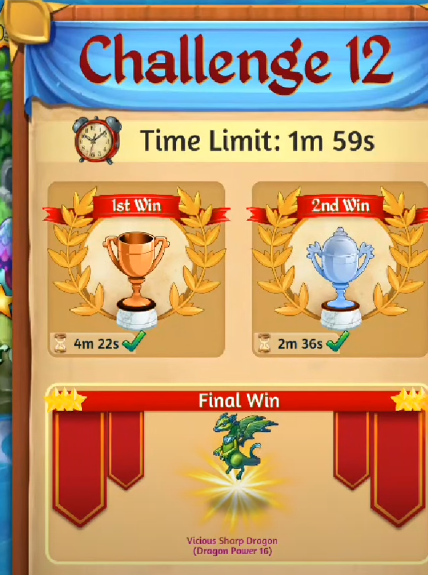 The challenge level 12 of Merge Dragons is named as Star Heaven. As we move forward, the levels start to get harder and harder, and you need to put extra effort to win the game in the given time. If you are an amateur, then you may have difficulty completing level 12 in a single take.
Most of the time, people run out of time while completing level 12 of Merge Dragons. For you to succeed at this level, we have brought a complete guide that will help you to achieve this level smoothly. By following the below-mentioned steps, you will surely be on the next level when the article ends.
First and Second win of challenge Level 12
You have 4 minutes and twenty-one seconds to fetch the first win in level 12. You'll find yourself on almost a barren land with a small piece of productive land that will be your only way to crack the first challenge.
You've got some bones that you need to scatter near the barren land to make a five merge to give life to the dead land.
After completing the merger on those bones, the second thing that you need to do is take a skull and merge it with the other four skulls in the dead land to get a complete skeleton.
Then, keep going and wait for the puddle to turn into a mushroom.
Next, you're going to merge some life essences to get life orbs and give life to the dead land.
Then you need to merge Elder wood, and after if you'll have to merge the bundle of Elder wood to get a tiny hut that can provide shrubs to get some little magic mushrooms capsules and then hit the extender arrows.
Now, wait for the puddle to turn into a mushroom so you can heal the other dead land and get life orbs and life flowers. Then merge five life flowers to get life orbs and then merge those life orbs to recover the dead land.
Now at the end, merge all the three statues that you got from the super dead land to secure victory.
For the second minute, you will get two minutes and thirty-six seconds.
Final Win
Here comes the most challenging and triggering part of the game. To complete the final level, you have got only one minute and fifty-nine seconds. The most critical part of this game is the puddle that you need to convert into a mushroom to give life to the super dead land.
First of all, You will have to go with the bones. Merge those bones in the pair of five to get a complete skeleton.
Secondly, unlike the first and second win, you will have to merge those flowers to get some life flowers and then hit the extender arrows to quickly get the result.
Now, you need to move the skull and merge them to get some skeletons and the puddle. Then, without wasting any time, put the puddle onto the mushroom and proceed with clearing the land until the puddle helps the mushrooms grow.
After doing this, merge some life essence to get life orbs and then hit those extender arrows.
Now, like the first and second win, bring the Elder wood and merge it to get bundles of Elder wood. After it, merge the Bundles of Elder wood to get that tine hut for some new shrubs.
Now merge some bushes to make a big one. Then merge all the big bushes to revive the dead land. After this, get some tiny life orbs and merge them to clear the land.
Now, wait for the puddle to turn into the mushroom. As the puddle converts into the mushroom, revive the dead land, hit those extender arrows, and then bring the stars, you got from mushrooms to the other dead land.
Merge those stars and those life orbs, and you are free to merge those statues to get the final result.
Conclusion
The above-given article is a complete guide to crack all the challenges of level 12. We have provided all the relevant information that you need to get through this level. Generally, the first and the second wins are ease to get as they've got time but to win the third challenge, you need to put the puddle as quickly as possible. For resolving your difficulties, feel free to comment below we will try our best to resolve your issues.