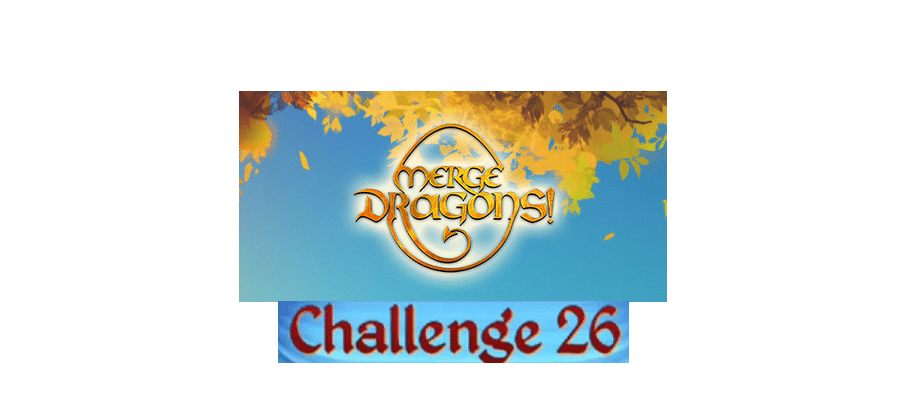 Merge Dragons is the best game that you can get your hands on. This is a perfect game to relieve your stress after a long day of work or pass some time during your daily commute to the work. Merge Dragons brings a unique combination of puzzles, magic, and constructive nature of healing abilities in your palm so you can enjoy one of the best mobile gaming experiences. Needless to say, it is an online game with multiple levels spanning over a map with hundreds of new places to explore.
The developers are working hard to keep the game more fun and interesting for you and introducing multiple new options and levels in the game. That is why you can see massive growth in the number of players of the game all over the world. You get a chance to breed dragons, hatch their eggs, and grow them in your very own camp. These dragons will also accompany you on your magical adventures of merging objects and healing the land over the map of Merge Dragons.
Challenge Levels
A magical game with the mainstream storyline is not something that would be appreciated by the fanbase. That is why developers are working hard to make the game favorite of everyone and keeping it that way for a long time. You get a chance at hundreds of regular levels in the game that are on the map. There are also some secret levels hidden behind the objects on the map and are only revealed once you tap on them. Then, you get a chance at these challenge levels that are a whole another level of difficulty, game experience, and rewards. These levels are represented by a goblet on the map.
Merge Dragons Challenge 26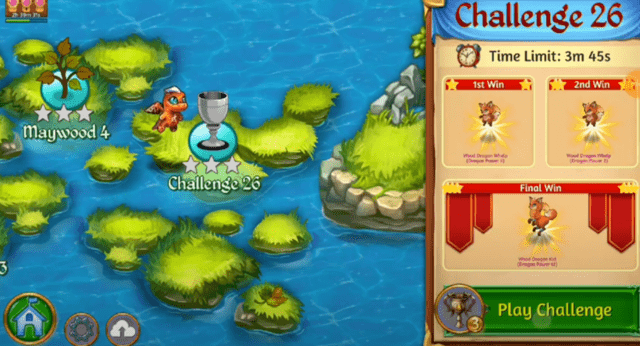 You have seen levels in the skies with blue land and are known as cloudlands. This level is something that you can call a hybrid, the best of both worlds. The level features a mystic cloud key, but you get emerald green grass covered with a wide island with plenty of objects on it and clouds covering them. The level is so vast that it can take plenty of your time to be covered and you need to be on your toes all the time when you are attempting this level. Merge Dragons Challenge 26 is known as Maywood 5 and is at Level 80 in the game. There is an abundance of resources on the challenge so you will not need to waste time by merging 5 objects for fruit trees or getting something out of your chest.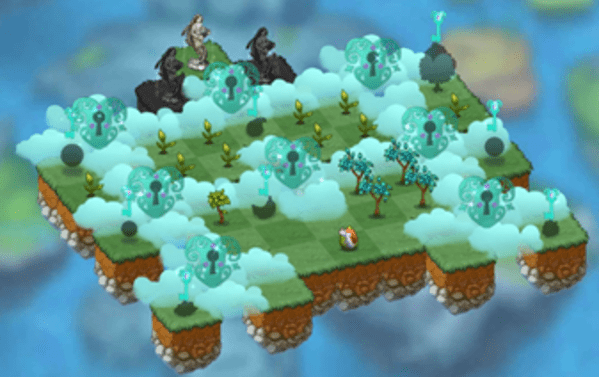 As you can see the first look on this level makes you feel like you are going to have the best magical experience in the game. I mean, look at those clouds spread over the land that you need to clear using your magical healing abilities. The chalice cost on this challenge is a bit on the higher side. You will have to pay 7 chalices to attempt this level and that is why you can't take even one wrong step while you are attempting this level.
Goal Stars
We all love to earn something extra, right? These challenge levels present you a unique opportunity to earn three stars. Each star is connected with a goal that you need to complete. These goals can also smoothen up your journey towards getting a perfect score at the end and complete the level right away. However, you don't necessarily need to complete these goals to end the level so, you can skip them as well if you feel like it is going to cost you the level itself.
Goal 1
You get a chance to earn the first star fairly easily on this level. You just need to open a sunken chest to get the right reward. The process however needs to be followed surgically as one wrong step can make you lose this goal. To start with, you need to need to merge small fruit trees to create a fruit tree. These fruit trees will be used for grapes and raspberry to get the nice fruit tree. Then, you can use these to get the clouds cleared from the land. The whole process is depending on clearing the right clouds so you can get your hands on the sunken chest that you need to open. You need to be patient, as you might not get a chance to open the chest until the end of the level when you have cleared all the clouds. You can get lucky as well, and find the chest earlier too, but chances are less for that.
Goal 2
Goal 2 is pretty much simpler than Goal 1. You need to hatch Roc whelps together to complete the goal. These rock whelps will be available on the land as you continue to search for it. Make sure you find enough resources to merge them together to create two roc whelps and then merge them together.
Goal 3
Remember making all those fruit trees to clear the land of clouds? Now, these trees come to action and will gain you a star. You need to merge those fruit trees together to create a nice fruit tree. Once you have the nice fruit tree, you will need to tap on it to get a banana and this would satisfy the third goal, earning you a star.
End Goal
The destroyed Gaia's statue is the end goal of this level as well like any other challenge level out there. You will find all the parts hidden on the land under those clouds. There are no demon gates or zomblins on the land so you don't need to worry about that part. All you have to do is find all the parts of the statue and merge them together to create Gaia's statue.
Possible Rewards
Due to the high Chalice cost on this level, you must be expecting some high rewards and that is right. You get a chance to earn Magic Shroom Stalk, Roc Egg, or Drake's ridge upon completing this level.