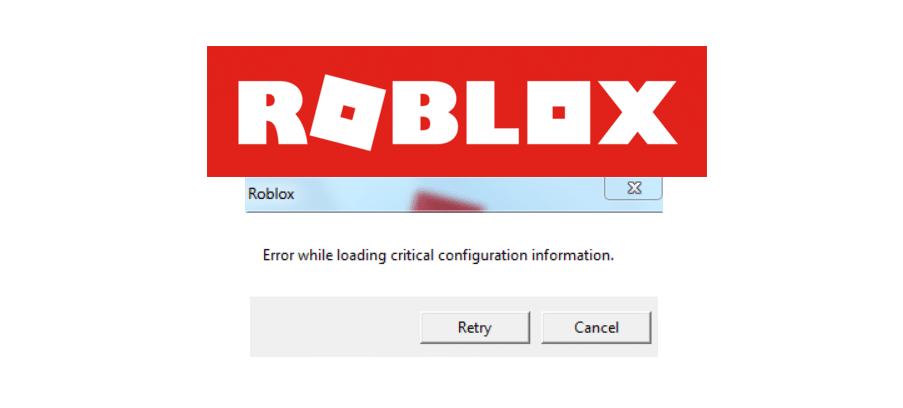 Roblox is one of the world's most popular platform that is being widely used by gamers. The whole purpose of the platform is to help bring a unique platform to gamers where they can game and chat with fellow gamers.
What's so good about Roblox is that it also allows players to be able to create their very own games. This is also one of the reasons why you are allowed to play so many games in Roblox. The library keeps getting updated with newer and newer games, as more developers start using Roblox.
How To Fix Roblox Error While Loading Critical Configuration Information?
While loading any game through Roblox, users have started complaining about receiving an error. According to them, whenever they try to load any game in Roblox, an error pops up stating "Error while loading critical configuration information".
This is why today; we will be explaining all about the things that you need to know in order to fix this issue. We will be listing a list of troubleshooting methods that should each help you be able to fix the problem. All of them are listed down below:
Clear Cookies
This error usually pops up when your computer is having issues loading cookies into protocol. All you need to understand is most of the time, this issue is actually related to the cookies stored in your browser or computer.
Whatever it is, you can easily fix it by clearing/deleting cookies in your browser. Afterward, simply log into your website which should be able to fix the problem.
Ensure That You Are Logged In
Another possibility why you are facing this issue could be due to the fact that you aren't logged in. The game may not allow users to be able to join as guests. In case you haven't logged into your computer, then you will automatically join as guests.
This leads us to believe that you could not be logged into your account which is causing the issue.
Reinstall Roblox
This is likely to fix most of the issues that you face while running Roblox. Hence, it could also potentially fix this particular issue as well. Just make sure that before you reinstall Roblox, you will have to completely remove the previous files from your computer.
After you have cleared these files, ensure that you download and install the latest version of Roblox into your computer.
Consider Contacting Support
One final thing that you can do in order to fix this issue is to contact support. There could be a technical issue that could only be fixed by a professional. Hence, you should consider contacting Roblox's support team.
The Bottom Line
These are the 4 ways on how you can fix Roblox error while loading critical configuration information. Be sure to read all of the instructions before trying to apply any one of them.