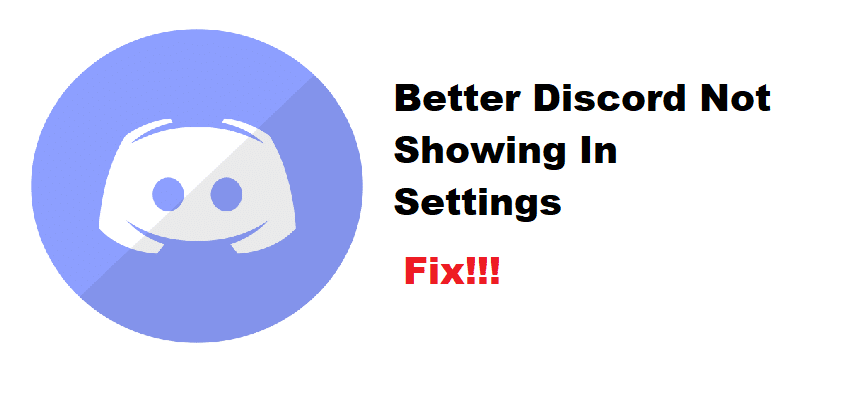 Better Discord is a popular alternative to Discord that offers far better features than Discord. It looks and works awfully similar to Discord. However, it allows you to be able to customize the application. For instance, you cannot customize your theme in Discord. But with Better Discord, you are allowed to customize and install different themes in your Discord.
The platform works exactly the same. You can also use custom CSS to customize Discord according to your needs. It also has other options such as emotes, and a built-in Java script loader.
How to Fix Better Discord Not Showing in Settings?
Users are experiencing weird issues with Better Discord. According to most of them, they can't access emotes, settings, or other features like themes through Better Discord. This has left all of them confused about what they can do in order to fix this.
There are quite a few reasons why this error could occur. One of them could be because the directory files are corrupted which is why they can't access the game. Today, we will be exploring this issue. We will be mentioning a number of solutions on how this problem can easily be fixed. So, let's get started!
Refresh Better Discord
One of the quickest and easiest fixes to this issue is to simply restart Better Discord. You can do this by simply pressing CTRL + R on your keyboard. This will successfully restart all the tabs on your window.
This won't be a guaranteed fix but many users have mentioned that refreshing actually helped in bringing back the settings tab in Better Discord.
Perform a Fresh Install
It is highly likely that you may have missing or corrupted files in Better Discord which is causing this issue to occur. Due to the missing files, Better Discord cannot access the settings resources in the program.
This is why we suggest performing a fresh reinstall. You will have to make sure that you have to completely remove all of your Better Discord files. Once you have, restart your computer to ensure all of the files are completely removed from the desktop. Download and install the latest version of Better Discord on your PC.
Install Plugins in Better Discord
The final thing you can do to fix this issue is to install the correct plugins in your Better Discord. Recently, there was an ongoing error that caused players to not see their settings in Better Discord. However, this was easily fixed through a plugin.
You can find the plugin by going to the link: https://cdn.discordapp.com/attachments/178208945410801665/267725236349173760/tempfix.plugin.js
The Bottom Line
Through this article, we have managed to explain all the possible ways on how you can fix Better Discord not showing in settings.