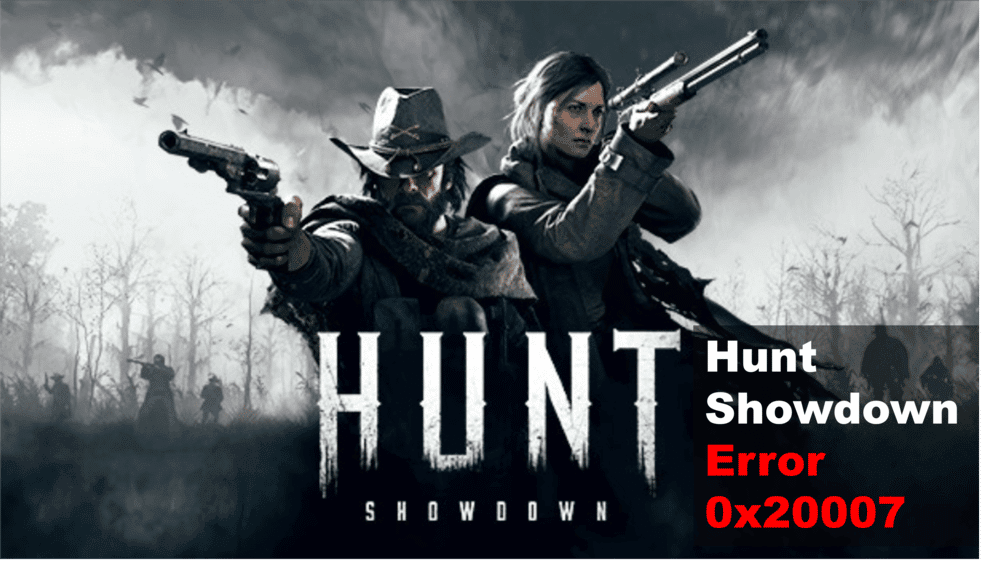 If you're a Hunt Showdown player, you've likely encountered the dreaded error 0x20007. This error prevents the game from launching and can be incredibly frustrating. Fortunately, there are several potential fixes to this issue. In this blog post, we'll look at 5 potential solutions to fixing error 0x20007 in Hunt Showdown. With these tips, you can get back to fighting off monsters and tracking down bounties in no time. So, without further ado, let's dive into the five ways you can fix error 0x20007 in Hunt Showdown.
Check Your Graphics Drivers
Having the right graphics drivers installed can help ensure that your gaming experience is as smooth and error-free as possible. To make sure you have the correct drivers installed, follow these steps:
Go to your PC's device manager. This can be done by right-clicking on your Start menu and selecting "Device Manager".
Expand the Display adapters section.
Right-click on the graphics card name and select Update driver.
Choose to search for updated drivers automatically. This will start a search for the latest driver version for your graphics card.
If Windows finds an updated driver, it will download and install it automatically.
Once the installation is complete, restart your PC and launch Hunt Showdown again to see if the error 0x20007 has been resolved.
If updating your drivers does not resolve the issue, you may need to try the other troubleshooting methods listed in this article.
Verify The Game Files
Verifying the game files for Hunt Showdown can help to fix error 0x20007. This is done by downloading and running the Steam verification tool.
To verify the game files:
Start up Steam.
Open the Library tab at the top of the window.
Right-click on Hunt Showdown and select "Properties" from the drop-down menu.
Select the "Local Files" tab in the Properties window.
Click on "Verify Integrity of Game Files".
Wait until the verification process completes.
Once the verification process is complete, try running the game again to see if error 0x20007 has been fixed. If not, you can try some of the other troubleshooting steps mentioned in this article.
Update Windows
One of the most effective ways to fix error 0x20007 in Hunt Showdown is to update Windows. This is because Windows updates often contain bug fixes and improvements that can help resolve issues like error 0x20007.
To update Windows, open the Start menu and select 'Settings'. Then, click 'Update & Security'. From there, click 'Check for Updates' and follow any on-screen instructions.
If you're running an older version of Windows, it may be a good idea to upgrade to the latest version. Doing so can also help resolve any errors or compatibility issues you may be experiencing with Hunt Showdown.
Disable Fullscreen Optimization
If you're experiencing the error 0x20007 in Hunt Showdown, then disabling Fullscreen Optimization may be the solution for you.
A fullscreen Optimization is an option that is enabled by default and can help improve game performance but may be causing the issue with Hunt Showdown.
To disable Fullscreen Optimization, right-click on the Hunt Showdown shortcut icon and select Properties.
Then go to the Compatibility tab and check the box labeled "Disable fullscreen optimization". Once this is done, click OK and launch Hunt Showdown again to see if this resolves the error 0x20007.
If disabling Fullscreen Optimization doesn't fix the error, then it may be worth trying some of the other solutions outlined in this post. If all else fails, contact customer support and they will be able to assist you in resolving the issue.
Change In-Game Settings
If none of the above solutions worked, then you may need to look into changing some of the in-game settings.
You can do this by going to the Hunt Showdown options menu and navigating to the "Video" tab. From there, try lowering some of the settings such as texture quality, shadow quality, anti-aliasing, etc.
If you're still having issues, then you may need to disable some of the more advanced graphical effects such as motion blur, ambient occlusion, and chromatic aberration.
In addition, try turning off the Vsync setting if it is enabled. Once you have made your adjustments, save the changes and restart the game to see if the error 0x20007 has been resolved.