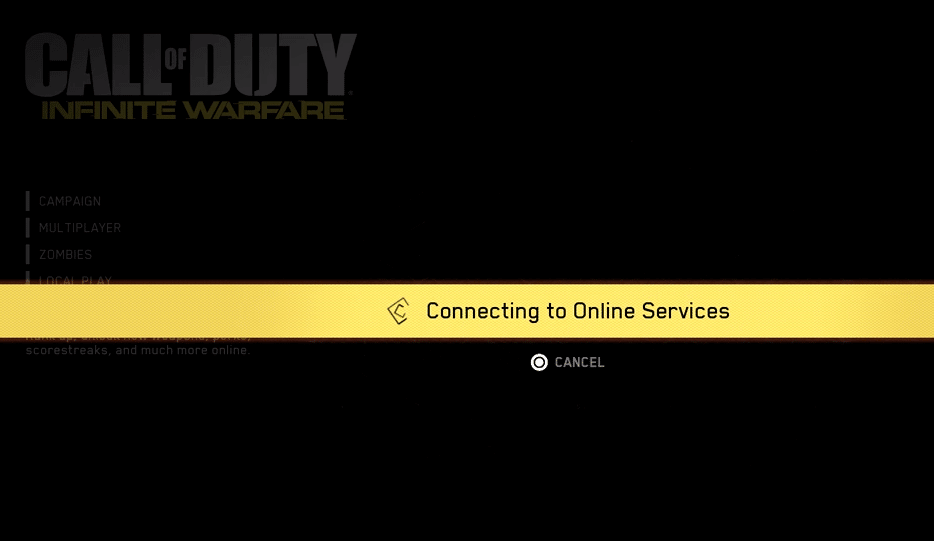 Even though COD Infinite Warfare has a bad reputation, there are still plenty of players in the game. That means that you don't have to worry about waiting for matches and you can find a queue almost instantly. There are no issues with the player count, even if you're playing on a weekday.  Overall, it is a balanced game and you will enjoy the game mechanics a lot.
A few bugs have been reported by players where they are unable to play the game due to the "Update Requires Restart" Error. There are a few things that can be done to get around this problem.
How to Fix Call Of Duty Infinite Warfare Update Requires Restart?
Clear Reserved Space
Many users complained about how they will get a message in-game saying that there is an update available and you need to restart the game. When you restarted the game, the same message would pop up again and you will be stuck in a loop, unable to play the game at all.
A few players were able to fix this issue by clearing the reserved space on their console. So, if you're also stuck in an update loop then try clearing the reserved space from your console and that should help you fix the error.
Start by opening up game settings and then navigate to manage addons and then open the saved data option. From there you will be able to clear reserved space. Now, just launch the game again and it won't give you the same error again.
You don't have to worry about losing your progress as it is also saved on Xbox Live. Some users also pointed out that turning their console off for a few minutes helped them fix the update loop.
If you're on PC then you should also try clearing the cache files for COD infinite warfare. After that, validate the game files and then try launching the game again. You can also use the task manager to end all the tasks related to steam and then open it again after waiting for a few minutes. Your update error should be fixed at this point.
Reinstall COD
If for some reason you still can't get the update loop fixed then you should try reinstalling the game altogether. If you're on PC then try using a different storage location might help you get around this problem. Simply remove the game from your PC and then download it again.
It can take several hours depending upon your connection speed but it can potentially fix your update loop error and you can play the game properly. Some players also mentioned that the issue fixed itself after a few hours. So, if you don't want to re-download the game then try waiting for a few hours and your problem will likely be fixed.
Also, make sure to close out any extra applications running in the background. Some security programs and background applications can create issues for your game. This might be why your game can't update and you're stuck in an update loop.
If that is the case with you then use task manager to end all the non-essential background processes. Make sure that your game has admin permissions and none other programs are blocking access to the internet. Then launch your client again to see if you're running into the same problem.
Game Support
If the problem persists then you should try checking the proxy settings and make sure you're not using a VPN as that can interfere with the update. You can also try power cycling your router to reset the network connection.
That will help you narrow down the reasons why your game is not working properly. The fix that worked out for the majority of the player base was to reinstall the game. However, if that doesn't work out for you and you're still stuck in the update loop then you will have to ask the COD support for help.
They can take a look at your account after you provide the details to see if there is something wrong with the account. Hopefully, they will be able to help you fix the game and you can continue playing with your friends.