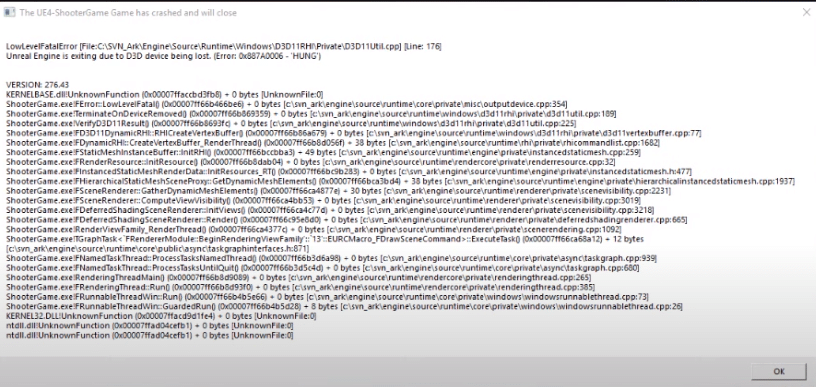 Raptor attacks can be quite annoying when you leave your base. That is why players prefer to always take bolas when they are leaving the base. That way it will be easier for you to survive and won't be affected that much by attacks from lower-tier enemies.
Also making an additional spawn location near your base can help a lot when you're under attack.  Overall, ARK is a very fun game but you can run into some issues from time to time.
Many players are saying that they keep getting "Low-Level Fatal Error" when they launch the game. If you're having the same problem with your game then these fixes might help you.
How to Fix ARK Low-Level Fatal Error?
Check Configurations
A few players were able to fix the issue by turning down the graphics in the game. So, if you can get the game to launch then switch to lower terrain shadow settings. If you're lucky, then you won't have to change anything else and the game will start working properly.
But if you're still getting the same error then you'll have to check graphics configurations. You can try using MSI Afterburner to pump up the GPU fan speed while bringing down all other settings for your PC. Then go to the game files and access the properties, from there you need to enable the compatibility mode.
If you're using an Nvidia card then make sure that the image sharpening is disabled. To do that, you need to access the Nvidia control panel and then go to the 3D settings. From there you can turn off this feature and then launch the game again.
If you have tweaked any other settings in the control panel then resetting them to default can also help you get around this issue. Most of the time, this issue can be traced to faulty configurations. So, make sure to tweak some settings on your graphics drivers and launch the game again.
Verify Local Files
There is a possibility that you're running into this error because of corrupted game files. So, if your game crashes as soon as you try to load the map then you need to look at the bottom left of the screen to find out which part of the map is having issues.
Then you need to head over to the ARK game files and open the malfunctioning map files. Now from the list of map files, you need to find the file on which your game crashed during the loading process. Then delete these map files and exit out of the file explorer.
After deleting the corrupt map files, you can use the steam client to verify the game files. To do so, you can go into the game properties, and then from the local tab, you can verify game files.
That way the steam client will redownload the map files and when you launch the game again, you won't get stuck in the same place during the loading process. You should only delete the map files on which your game got stuck and avoid removing everything from the island map folder.
Update Graphics Drivers
If you're sure that there is nothing wrong with your game files then you need to update your graphic drivers and that will help you fix the error. It would be best if you could fully remove the current drivers and then download a fresh copy of updated graphics drivers on your PC.
Make sure to check the compatibility of the drivers before installing them on your PC. Also, ensure that you're not overclocking anything on your PC and everything is running on the default mode. After everything is good to go, try loading the game again.
However, If you don't want to mess with your Graphics drivers then you can always try reinstalling the game if you have good internet. You can also reach out to the support members to help you fix the error.
Make sure to also create a thread on Steam forums to seek help from other ARK players. That way you can try out different troubleshooting steps recommended by other players. Hopefully, one of these troubleshooting steps will help you fix the fatal error in your game.